The funeral of Buddhist prelate of Brazil, Ven. Dr. Puhulwelle Vipassi Nayake Thera
by Tissa Madawela, Lanka Everything, Nov 3, 2006
Birmingham, UK -- The funeral of Buddhist prelate of Brazil, Ven. Dr. Puhulwelle Vipassi Nayake Thera who passed away in Birmingham City Hospital after a brief illness was held at Perry Barr Crematorium in Birmingham.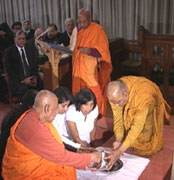 More than 25 Buddhist Priests from many Sri Lankan temples in all the major cities in England and a vast number of lay devotees of the late Nayaka Thera attended the funeral.
Head of the Birmingham Buddhist Vihara Ven. Witharandeniye Kassapa Thera conducted the religious ceremony at the crematorium. Later at the Birmingham Buddhist Vihara a 7th day memorial Gilampasa Puja was held to pass the merits to the late Nayaka Thera.
Born at Puhulwella in Matara on May 24 1937, the Nayaka Thera was ordained as a novice monk at the age of 14 at the Sri Sunandaramaya in Galboda under the patronage of Chief Sanghanayaka the Most Ven. Parawahera Devananda Nayake Thera. Educated at Purvãrãma Instiute of Kirinda he received his secondary education from Sri Sudarshi University College, Matara and oriental studies from Vidyodaya Pirivena in Colombo.
He completed his graduation from Kelaniya University in Eastern Studies, of Sinhala, Pali, Arts and Economics.After leaving the university he worked as a teacher in Hatagala Maha Vidyalaya in Hambantota ans Talpavila Vidyalaya in Matara.
Later he became a lecturer at Sri Gnaneshwars University School, Gangaramaya in Colombo, until he took up a post as lecturer of Páli and English in the Chittabhavan University College in Thailand. He was the head of the Department of Páli and English at this university.
He was a visiting lecturer in Malaysia, Singapore, Japan, the United States, and the United Kingdom before he became the Abbot of the Monastery of the Buddhist Society of Rio De Janeiro in Brazil.
While he was in the UK he secured his Ph.D for Buddhist Philosophy from the University of Hull.