Norwegian group denied visa to present prize for Buddhist monk
DPA, February 14, 2007
Oslo, Norway -- Norwegian authorities were slated to discuss a decision by Vietnam not to allow entry to a Norwegian human rights group, officials said Wednesday.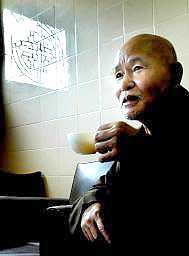 << Ven. Thich Quang Do
Foreign Ministry spokesman Bjorn Jahnsen said Oslo "regretted" the decision and had asked for a meeting with Vietnamese authorities. Such a meeting would likely take place next week in Hanoi after the ongoing New Year celebrations, he told Deutsche Presse-Agentur dpa.
Arne Liljedahl Lynngard, head of the Rafto Foundation board, said he had recently been told by the Vietnamese embassy in the Danish capital Copenhagen that he would not be granted a visa.
"I wanted to be open with the purpose of my visit," Lynngard said after his visa application was rejected, adding he had stated his intent to visit Thich Quang Do, a veteran pro-democracy activist.
Do was last September named winner of the 2006 Rafto Prize "for his personal courage and perseverance through three decades of peaceful opposition against the communist regime in Vietnam. "
Lynngard said he had wanted to present the prize to Do who had decided not to visit Norway last year to accept the award since he was afraid he would not be allowed to return if he left Vietnam.
Do is also deputy patriarch of the Unified Buddhist Church of Vietnam that is not officially recognized by the Vietnamese authorities.
The prize, worth 50,000 kroner (7,600 dollars), was symbolically accepted on Do's behalf by Vo Van Ai, Paris-based president of the Vietnam Committee on Human Rights, Lynngard said.
If Vietnam reconsiders its decision, Lynngard said he was still prepared to travel to Vietnam.
Do, who has diabetes, is held in "pagod arrest," Lynngard said, adding he remained under constant police surveillance.
Despite the restrictions, Do was in "good spirits" and showed no sign of giving up his struggle for human rights, democracy and freedom of speech, Lynngard said.
The Rafto award was created in 1986 in memory of Professor Thorolf Rafto of the Norwegian School of Economics and Business Administration in Bergen, who was an outspoken human rights activist.
Four previous winners of the Rafto Prize - Aung San Suu Kyi, Jose Ramos-Horta, Kim Dae-jung and Shirin Ebadi - later went on to receive the Nobel Peace Prize.