Dalai Lama to Attend Buddhist Conference in Hamburg
congress-on-buddhist-women.org, April 4, 2007
International Congress to Address Role of Women in Buddhism
Hamburg, Germany -- The Fourteenth Dalai Lama has confirmed his participation as a keynote speaker at the International Congress of Buddhist Women, to take place in Hamburg from July 18 through 20, 2007.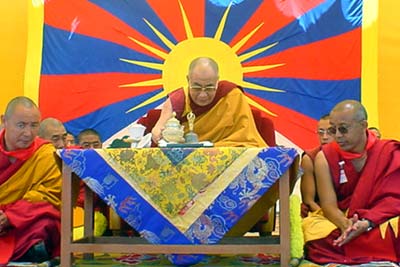 The main topic of this pan-Buddhist conference is women's rights to full ordination in the Tibetan Buddhist monastic order, or Sangha. A resolution to re-introduce full ordination for women in the Tibetan tradition would be groundbreaking, and would significantly strengthen women's rights in the 21st century.
With its potentially historic impact, the event has already generated great interest from Buddhist countries around Asia. Reputed scholars, Buddhist dignitaries and practicing Buddhists from many Buddhist traditions are expected to take part in the congress. The conference will be held at the University of Hamburg, and will feature a keynote speech by the Fourteenth Dalai Lama on July 20th at the Auditorium Maximum, the university's largest conference hall. The conference is open to the public, and registration is still open at www.congress-on-buddhist-women.org
The question of reintroducing higher ordination for Tibetan Buddhist women has long been of great personal interest to the Dalai Lama. Indeed, this congress was organized at his personal request. The full ordination lineage was interrupted centuries ago in Tibet, and can be reintroduced with the support of existing lineages from other traditions. However, the consensus of an international monastic community, or Sangha, is required so that a formal judicial act can be prepared.
Full ordination has profound practical as well as symbolic significance for Buddhist women. In the majority Tibetan order, only ordained women are allowed to complete philosophical study courses equivalent to that of monks. Such a degree would qualify them to occupy roles of major responsibility in Buddhist communities, such as lama or teacher. It is still uncertain how the Tibetan tradition may choose to reintroduce the full ordination of nuns. Various methods are possible and under discussion.
Scholars and practicing Buddhists have been researching this topic for many years, and will present their results to the public for the first time at the congress in Hamburg. Even for the Dalai Lama, these research results stand to offer new insights and information.
The Dalai Lama's keynote speech on the future of Buddhist women is eagerly awaited by Buddhists all over the world. His aim is to inspire women to devote themselves to a religious life, thereby improving the social status of Buddhist women in countries where Tibetan Buddhism and the Theravada tradition is practiced.
The congress is organized by the Foundation for Buddhist Studies in cooperation with the Asia-Africa Institute of the University of Hamburg. The congress will be held in English and simultaneously translated into German.
Registration forms and additional information on the International Congress can be found at http://www.congess-on-buddhist-women.org
If you go:
What: International Congress on Buddhist Women
Where: University of Hamburg, Campus von-Melle-Park, Edmund-Siemers-Allee 1
When: July 18, 19 and 20, 2007