Saga Dawa celebrations in the Russian Buddhist region of Kalmykia
By Julia Jironkina, Savetibet.ru, June 1, 2007
Kalmykia, Russia -- The Saga Dawa celebrations in the southern Russian region of Kalmykia have literally caught everyone by surprise with an extremely large extent of religious activities and events.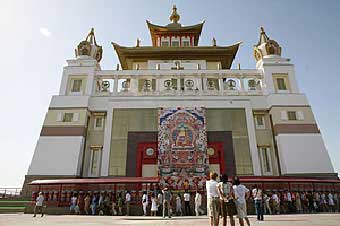 Being declared a national holiday, as had been suggested previously by the head lama of Kalmykia Telo Tulku Rinpoche, the holy day of Buddha's birthday, Enlightenment and Parinirvana drew every family to the main temple of Elista. Named the Golden Abode of Buddha Shakyamuni, the temple was built at a place consecrated by His Holiness the Dalai Lama during his short visit to the republic in 2004.
A major event of Saga Dawa celebrations was a display of a 12-meter long pictorial representation of the Buddha Shakyamuni which was actually an enlarged copy of a thanka offered to the Russian Buddhist republic by His Holiness the Dalai Lama during his first visit to Kalmykia after the end of the era of atheism and repressions.
The enlarged representation of the Buddha was displayed on the wall of the temple which is considered to be the highest in Europe, and later consecrated by Kalmyk and Tibetan monks. When asked, the temple monks say that the idea to order and display such a big thangka came spontaneously as a means to remind Kalmyk people of the greatness and kindness of the Buddha.
"As human beings, we all share a desire for compassion love, kindness and happiness, - says head lama of Kalmykia Telo Tulku Rinpoche. - But happiness is not something that falls from the sky. To get it, we must learn from the Buddha and use his teachings in our daily lives".
Congratulating Russian Buddhists on the occasion, Telo Tulku Rinpoche reminded them that "being traditional followers of Buddhism, they have a special responsibility to preserve the precious legacy of the Buddha".
The reestablished Saga Dawa celebrations made happy everyone in Kalmykia, as well as multiple guests who came to visit the majestic abode of Buddha Shakyamuni from nearby Russian cities and towns. The temple, which was turned into a heaven of Tibetan Buddhist culture through unceasing efforts of the head lama of Kalmykia, was overcrowded all the day long. Serious practitioners had a chance to get Mahayana precepts at 5 am, which they kept thoroughly during the holy day when spiritual merits multiplied millions times. All the others came later to receive the teachings on refuge and root mantras they can recite in their daily lives.
In the afternoon, the monks from Gyudmed Tantric monastery started the construction of a sand mandala. This year, they chose the mandala of Chenrezi, the Buddha of Compassion, dedicating the merits to long life and good health of His Holiness the Dalai Lama.