Shrine of the times
by Phil McNeill, The Telegraph, July 22, 2007
Churches, hospitals and schools have long been targets for developers. Now, Phil McNeill takes off his shoes at Britain's first Buddhist temple conversion
London, UK -- At first glance it looks as if someone has muddled up several different movie sets. The first building comes in period costume: a half-timbered manor house, all beams, balconies and bays, built 100 years ago but designed to look three centuries older. Scattered beside it are an Edwardian coach house and cottages where the blacksmith, gamekeeper and horses would have lived.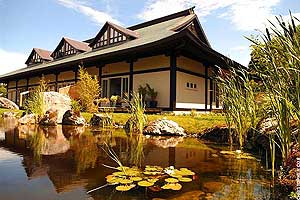 << Reflected glory: Houses in the converted temple benefit from a traditional Japanese water garden setting
A short way off stand two incongruously modern dormitory blocks, like a bland motel that has crash-landed from the M11. Half hidden in the trees is a vast gymnasium that looks like an aircraft hangar. And right in the middle of all this architectural chaos stands something even more unexpected: a Buddhist temple overlooking a Japanese watergarden, teahouse and archery court.
Given the opportunity to turn this weird conglomeration into a coherent residential estate, some developers would earmark half of them for demolition. But Tim Sargeant, of the period renovation specialists City & Country Group, is made of sterner stuff.
"As soon as I drove down that tree-lined avenue and turned the corner, I went, 'Wow, this is unusual'," he says of his first sight of the property, which had previously been a Japanese school. "I saw the possibilities virtually straight away."
What he saw, in fact, was 57 new homes. Over the past two years The Manor, in the pretty Suffolk village of Herringswell, six miles from Newmarket, has been transformed. The mock-Tudor manor house has already been turned into 10 properties, ranging from a luxury first-floor apartment with a 500sq ft balcony looking over the woods and meadow surrounding the eight-acre estate, which was priced at £550,000, to a "dinky" one-bedroom flat at £215,000 (for sale through City & Country Group, 01279 818900, www.cityandcountry.co.uk).
But what observers have really been waiting for is the Japanese temple. We've seen churches, schools and even hospitals converted to homes, but this could be Britain's first Buddhist temple conversion. The launch this month finally gives us a chance to look inside.
The estate stands on a site dating back to Saxon times, when Herringswell Manor was owned by the Abbot of Bury St Edmunds. It is ironic that many of the new properties are likely to be bought as second homes, because when the manor house was built in 1906 it was actually a second home itself.
It was a country retreat for a wealthy family who lived in Blackheath, south London. Arthur Ballance had made his fortune on the Stock Exchange, while his wife's maiden name was Peek, as in Peek Frean biscuits. When they travelled they would hire an entire train for the family and servants. Yet despite their wealth, the Ballances were very religious - a theme echoed by subsequent inhabitants of The Manor in ways that would have astonished its original owners.
Their coachman was Elijah Gregory and his daughter vividly remembers being allowed to "run and roam" over The Manor in the 1920s. Olive Belson recalls how her father would make the two-day drive to London, using two sets of horses, to collect the family's mountain of luggage when they came for occasional shooting parties.
Last week, Olive made a sentimental return to The Manor on her 90th birthday, to see how it has changed.
Elijah would be amazed to walk into his old coach house now. City & Country have turned it into a terrace of three houses, with surprising spaces based around the original features.
"People think they have to have this room and that room because they are brainwashed into it by modern house-building," says Sargeant, who has previously adapted two Essex hospitals - Warley in Brentwood, now known as The Galleries, and Old St Michael's in Braintree - as well as various mills, barns and inns. "Because we work with what is there already, we provide something a little bit different."
It is a sympathetic approach to development that has not been applied by those who have expanded The Manor in the past. The ugly dormitories and gymnasium were bolted on after it became a school for US servicemen's children, then an ashram for the Bhagwan Shree Rajneesh sect in the 1980s, and finally the Japanese Shi-Tennoji school from 1985 to 2001.
The orange-robed Bhagwan followers arrived with the intention of building an entire city, called Medina Rajneesh, inspired by the Indian guru Bhagwan Shree Rajneesh, who managed to assemble a collection of 93 Rolls-Royces before he was discredited. Journalist Tim Guest, who grew up in the Herringswell ashram (spiritual community), recalled his experiences in his recent book My Life in Orange: Growing Up with the Guru.
"Never in history had so much orange gathered together to say 'Beloved' so often," he wrote. "Three hundred adult sannyasin (disciples) gathered here to whoop and cry, to shout and whirl, to dance and embrace, to cook wild rice and buff the wooden floors."
It was the Shi-Tennoji monks who added the temple. Malcolm Allerton, 69, who was the Japanese school's head of music for 12 years, has fond memories of it. "The temple was a holy place," he says. "Workmen were brought from Japan to build it, I believe.
"In its heyday the school had 300-odd boys and girls. Every morning we would all kneel on mats in the temple and meditate for 20 minutes, reciting the sutra (scriptures), drawing the mind to the fact that we were going to study.
"We would all be in uniform, including the teachers, in grey trousers, school blazer and tie. Arriving at work was like entering Little Japan."
We think of temples as ornate, but this one was pretty functional apart from a fabulous copper roof. It had plain white walls with almost no windows - a deliberate ploy to aid concentration. "The only fenestration was at low level," says Tim Sargeant, "so you could not see outside. It was detached from the grounds and that fantastic Japanese pond."
He immediately set about changing that. Unlike the Grade II manor house, the temple is not listed, so the developer was free to insert dormer windows to give the roof extra highlights, and glass sliding doors opening on to a bamboo deck to bring the watergarden into the house. The result is four two- and three-bedroom houses, priced at £485,000 and £525,000, with the main features of the original building retained - the massive pine beams running through all four properties, the white walls and the roof.
"The copper on the dormers is already going verdigris to match the original," Tim notes happily. To make the estate more coherent, copper elements have been added to the other conversions, along with dormer windows and extended eaves.
Even with a second storey built into the temple roof, the ground-floor rooms have stunning 12ft high ceilings. "With a conversion you tend to end up with much higher ceilings," Sargeant says. "But equally we are not scared of going with lower ceilings, rather than your standard 8ft high ceilings that you get with all the modern buildings - it can make it feel cosy and intimate. It's amazing what a few extra inches do to the proportions of a room."
Now that the temple conversion is complete, along with the nearby teahouse and archery court, the builders have moved on to the two dormitories - cunningly renamed The Courtyards - each of which is being turned into 15 apartments.
"These buildings were dominated by their large, dark roofs," says Sargeant. Using dormer windows, again, to lighten the roof and light-coloured boarding, they will now look genuinely attractive.
But the 30 new households here have not pleased the redoubtable villagers of Herringswell - voting population 128 - and they have a history of fighting their corner. When the Bhagwan sect threatened to overrun the village, a parish council was formed specifically to challenge them. Last year, when Orion Land and Leisure tried to build a £1billion sports arena called Watermark with 4,500 homes on their doorstep, the council combined forces with four other villages to see them off. But they couldn't win the battle of the dormitories.
"I agree that The Manor is stunning," says council vice-chairman Gloria Hicks, "but we were against the conversion of the former dormitories, which are new buildings. The feeling is that 57 dwellings is far too many, particularly for the roads around here. But City & Country went to appeal and won - which did not go down very well.
"However, that will not stop us making the residents welcome."
The welcome awaiting buyers at the front of the temple is a large plaque in Japanese script - an explicitly Oriental touch which, along with the bamboo deck and screens, you could see as a slightly kitsch design lick. Except that this sign has been there since the day the temple was built.
It is, in fact, a dedication to Prince Shotoku, the chap who enshrined Buddhism as the official religion of Japan back in the sixth century. Today it serves as a monument to Britain's new religion: property.