Monk locks in temple raiders
By Paul Bradley, Birmingham Mail, Sept 21 2007
Birmingham, UK -- A MONK stopped a gang of robbers in their tracks after they burst into a sacred Buddhist shrine in Birmingham.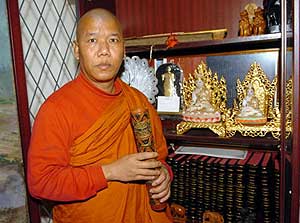 << Buddhist monk Ashin Rathapala, who foiled a break-in at the peace temple in Ladywood
Burmese Ashin Rathapala stumbled across the thieves as they lined up leather bound scriptures and bronze Buddhist sculptures at the Buddhist Peace Pagoda in Ladywood.
But as the criminals prepared to make a dawn getaway with their priceless haul, Monk Rathapala ran in repeatedly shouting 'thief' in Burmese.
The startled gang tried to make their getaway through the front, but the quick-thinking monk locked them in before running to the nearby monastery and raising the alarm.
Only as the other monks woke up and called police did the desperate thieves find an escape route as they fled through a side window and under a chain linked fence.
The gang managed to flee with just a fraction of the Pagoda's treasures thanks to the quick thinking of Monk Rathapala.
Sculptures, artwork, scriptures and other historical artefacts were scattered throughout the world when the Burmese King was exiled hundreds of years ago.
The Birmingham Peace Pagoda in Osler Street, Ladywood.
Many ended up in Birmingham where they became a target for what may have been a specialist 'steal to order' gang.
But police believe the burglars may have left vital clues behind in their blind panic to escape.
Robert Black, 55, a volunteer at the Birmingham Buddhist Vihara, said: "We are all in a total state of shock.
"Nothing like this has ever happened before and I am now desperately trying to get in touch with the trustees so we can secure the site again.
"The gang dropped some of the items as they fled and left behind some of the more valuable scriptures and Buddhist images."
Detectives believe some of the bronze Buddha sculptures and leather bound scriptures may end up on weekend car boot sale stalls, and urged buyers to be vigilant.
"The things they took were absolutely priceless," said Mr Black.
"I have no idea how we will replace them because no amount of money will buy us new ones. They are not the sort of thing you can just go out and buy from a shop."
Trustees of the Pagoda are set to step up security in the wake of the break in, by installing CCTV and reinforced locks.
Five Buddhist monks and a nun opened the peace pagoda nine years ago in Ladywood , where they have lived a peaceful existence alongside the lay community.