Coroner appeals over monk death
BBC, Jan 16, 2008
Milton Keynes, UK -- Two people who may have seen a Buddhist monk killed while using a lawnmower have been urged to come forward by Milton Keynes' coroner.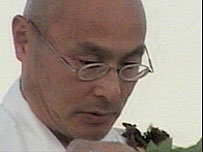 << Reverend Gyosei Handa was killed while using a tractor
Rodney Corner said the couple who came to the aid of the Reverend Gyosei Handa before the monk's death at his temple may have valuable information.
The chief monk at Nippon zan Miohoji Buddhist temple, Milton Keynes, became trapped under the tractor on 21 August.
An inquest into the 50-year-old's death is due to start on Monday, 18 February.
The coroner said he believes the couple, who were walking in the grounds and tried to help the monk, may have information important for the inquest.
They left the scene before police officers could take their details, and Mr Corner has urged them to contact Thames Valley Police.
About Gyosei Handa
Gyosei Handa was born in Niigata, in western Japan, where his family ran a woodyard, and he grew up a practical boy who enjoyed working with his hands. Aged 19, he left Niigata polytechnic and travelled to Sri Lanka, where he met the Ven Fujii Guruji, a Japanese Buddhist priest of the Nichiren sect who had rejected the militarism of Japan's prewar rulers and taken up the peace activism practised by Gandhi. When Hiroshima and Nagasaki were destroyed in 1945, Fujii had decided to devote himself to building pagodas (a traditional Buddhist structure) dedicated to peace across the world.
When Handa met him in 1978, Fujii, then 94, was supervising the construction of a pagoda at Sri Pada in central Sri Lanka. Handa threw himself into the work, and his energy and practicality made him indispensable. Shortly afterwards, Handa was ordained by Fujii into his order, the Nichihonzen Myohoji Buddhist order, whose members wear the yellow robe of southern Buddhism over a white Japanese-style under-robe. Ordination brought celibacy, dependence on alms and devotion to the cause of peace by the practice of paying respect and repeating the traditional Nichiren incantation.
In 1980, Handa moved to the UK to help build the first peace pagoda in the west, beside Willen lake in Milton Keynes. Like the Battersea Park pagoda in south London and 80 others worldwide, it is a non-sectarian sacred space devoted to activities promoting non-violence and peace. In 2004 a Japanese-style temple was inaugurated near the pagoda, its construction having been led by Handa. Each year, he organised a multifaith ceremony attended by hundreds and a Hiroshima memorial event where participants gathered at the lake to float lanterns on the water.
Following Fujii's example, Handa undertook many walks for peace.
In the early 1980s he walked across Asia and the Soviet Union on the northern leg of the World Peace March. Other marches took him to the US and eastern Europe, while in Britain he was arrested many times on anti-nuclear protests. In Ireland, Handa made common cause with the Pit Stop Ploughshares anti-arms trade activists, and spent many days in silent prayer outside the Dublin courtroom where the group were on trial. One protester described Handa as "a still point amid the swirling words in the court and the vehicles and people outside".
Handa was a popular figure on the marches. His sandals were visible beneath his monk's robes, and he moved easily between sober religious chanting and high-spirited efforts to keep up marchers' spirits with cartwheels and handstands. The same friendliness and energy made him a popular figure around Milton Keynes. As one of his students commented: "He was a straightforward man with an ease and charm that meant he got on with people regardless of their social position."
On the day of his death, Handa had been preparing to visit his mother in Japan. She joined hundreds of local people, peace activists and Buddhists at his funeral in Milton Keynes, where she spoke movingly of her son.