Inner peace at Maitreya Centre
Hasting Observer, January 23, 2008
Bexhill, England (UK) -- The success of a weekly meditation class in Bexhill led to the opening of the Maitreya Buddhist Centre in Sea Road.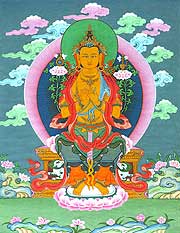 Local interest in meditation continues to grow, according to administrator Andrew Durling, who says the centre is "thriving" as it enters its third year.
A full programme of meditation classes and talks on Buddhist thought and practice begins again with the popular Monday evening meditation classes, starting on February 4th at 7.30pm.
Highlights for the coming year include a Medicine Buddha empowerment to be granted by Buddhist nun Lam-ma on the weekend of March 29/30, and two open days, one on March 22, and the other on August 23, in which the public can find out all about Maitreya Centre through taster meditation sessions, guided tours, and videos about Buddhism.
The Centre has expanded its range by opening another branch in Rye, where teachings are given on Thursday evenings.
This means that the Centre now gives meditation classes in Bexhill, Hastings, and Rye during most weeks of the year, which Andrew claims is "testimony to the growing popularity of Buddhist meditation".
The Centre's retail shop in Sea Road, Bexhill, now has a vastly increased product range, which include high quality craft items made by Tibetan Buddhist communities in Nepal, such as thangkhas (sacred Buddhist paintings), which are recognised as distinguished works of art.
He says he is "very happy" with the way the Centre has grown in Bexhill and the response from local people interested in the approach they find there.
"Even though we are still very young and very small, I am happy because it works - people come to us. The public regularly come in for a whole variety of meditation classes or learn about meditation and buddhism.
"More importantly I think we have laid all the foundations for longterm growth in the future. I think we are here to stay.
"We have a very good team of volunteers - they are a very coherent, happy and harmonious bunch of people. I am happy with the way it has turned out.
"Bexhill is a lovely place to have a centre - it is not as hectic or overdeveloped as other areas. It is a little bit more laidback and relaxed."
Visitors can find out more about meditation classes at 13 Sea Road, or by calling 01424 733761.