Meditate and have your questions answered by Berkshire's Buddhists
BBC, Feb 15, 2008
Berkshire, UK -- The Berkshire Theravada Buddhist group will be talking, and answering questions, about the Theravada Buddhist tradition and its practice in the UK.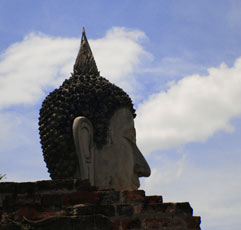 The Berkshire Theravada Buddhist group will spend an evening talking about there traditions and practices in the UK. The Reading Interfaith group will host the talk and more information can be found here.
Theravada Buddhism is one of the many Buddhist traditions which co-exist happily with all forms of Buddhism. this is the main form practised in Thailand and Sri Lanka and is based upon a monastic form whose rules were laid down by the Buddha himself.
It is founded on regular meditation and dependent upon respect for moral guidelines and generosity, supported by a lay community which the speakers, Anthea West and Penny Henrion belong to.
Buddhism does not depend on a set of beliefs, but is rather a Path to be followed through life. The Buddha taught what he believed were the causes and cures of suffering, but his followers are encouraged to make their own investigations and to accept only what they find to be true
and helpful.
This religious tradition does not try to convert others: indeed, it is forbidden to offer religious teaching unless it is specifically requested.
All spiritual seekers are requested to respect their own tradition and teachers. So an Interfaith approach is particularly apt.
All are welcome to attend this event, and light refreshments will be served after the talk.
Other Buddhist traditions represented in Berkshire include Zen, at Reading Buddhist Priory, 176 Cressingham Road. Soka Gakkai, at Taplow Court, Maidenhead. Tibetan New Kadampa, at Shantideva Centre, 9 Bath Road.
If you go:
19.02.08 | 7.30 | Friends Meeting House | 2 Church Street | Reading