Dutch Tibet Supporter receives warm welcome in Kalmykia
by Valery Nikolsky, Phayul, March 4, 2008
Moscow, Russia -- Buddhist monks of the "Golden Abode of Buddha Shakyamuni", a major monastery of the Russian Buddhist Republic of Kalmykia, provided their generous help and hospitality to Britt Das, a Dutch activist who is on a lonely march to support Tibetan people.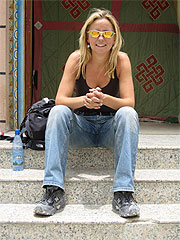 << Britt das
A 38-year-old activist hopes that her march – which she called "Footprints for Tibet" – would help to increase public awareness of Tibet issue in every country she courageously walks through.
She already covered 4 thousand kilometers with another 6 thousand are still ahead. Recent snowstorms in Kalmykia made it impossible for her to continue her peaceful march for several days which she spent among the people who share her high hopes and ideals.
On the 26th of February she visited the majestic temple "Golden Abode of Buddha Shakyamuni" in the capital city of Kalmykia, which was constructed on a site consecrated by His Holiness the Dalai Lama during his brief visit to the place in December 2004. The construction works were then completed in 9 months making the temple the biggest in Russia and in Europe.
Britt Das was welcome by Lobsang Tsundue, a Kalmyk monk and abbot of the temple who had studied in Drepung Gomang Tibetan Monastery in South India. Geshe Tenzin Dugda, a senior Tibetan monk - who left Tibet and went to exile following His Holiness the Dalai Lama some 20 years back and is currently working in Kalmykia helping to revive Buddhism there – expressed his sincere gratitude to Britt Das for her courageous willingness to help the Tibetan struggle. Kalmyk and Tibetan monks of the "Golden Abode of Buddha Shakyamuni" offered their Khataks (ceremonial scarves) and made their prayers to avert any obstacle on her way.
Britt Das has been practicing Buddhism for 18 years. She recently sold her business in order to start her march to support Tibetan people in their non-violent struggle. She left her home in Amsterdam in August 2007 and is now crossing wide plains of Russia. According to NTV-correspondent Maxim Berezin, she is planning to cross Kazakhstan, Uzbekistan and Tajikistan and approach Afghanistan, the most dangerous part of her march.
"It was quite difficult at the very beginning, she says, I had problems with my legs. Also, I was attacked once and my jaw was broken''. The assault happened in Romania and she had to spend some time in a hospital.
In Russia, she says, people provided a very warm welcome to the Tibet supporter. "People stop on the way, come to me, ask me to sign for them, wish me good luck, and give me small presents, such as cakes".
Although Russian Television Companies are very cautious in their coverage of Tibet-related issues, Britt Das's "Footprints for Tibet" were covered by a major NTV company, as well as local TV-companies in Rostov and Kalmykia.
Britt Das is planning to arrive in China in August when the Olympic Games are to be opened in Beijing.