Plans for Buddhist tourist attraction in Wigan
By Richard Bean, Wigan Today, March 7, 2008
Wigan, UK -- A unique international tourist attraction could be on its way to Wigan. The Observer has learned that the town's huge Chinese textiles hub project may include an ornate Shaolin Buddhist temple.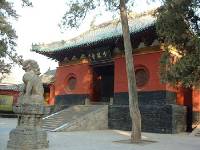 The temple would be the largest of its kind outside China and would attract hundreds of thousands of people a year to the town.
An outline concept for the Wigan Chinese Temple project has now been put forward by the Lee Kai Hung Foundation, a charity founded in 1992 to help Chinese students studying in Britain, on behalf of the North West Chinese Chamber of Commerce.
The temple site could include hotel and retail facilities, an educational and cultural centre and would be a source of meditation for visiting Chinese business people.
The temple is seen as an important potential aid to understanding and building links between the two nations.
However, it was not announced at last week's high profile press conference about the Chinagate textile plan. And the Lee Kai Hung Foundation's founder Dr Lee said: "A feasibility study is being carried out but I believe any further exposure at this stage is premature."
China's Shaolin Monastery was made world famous by Hollywood's 1970s cult classic series, Kung Fu, featuring David Carradine. Dating from AD 496, it is the only temple in China that combines martial arts and Zen Buddhism.
As such, monks at the monastery may be martial monks, scholarly or clerical monks.
It is held that Zen Buddhism allows you to store and build up 'chi' (spiritual energy), while martial arts is the act of releasing chi; therefore, the two complement and complete each other.
The monastery in China has been destroyed and rebuilt many times and martial arts groups from all over the world have made donations for the upkeep of the temple and grounds.
The project to bring a temple to Wigan has the backing of the North West Development Agency and Wigan Council which view it as presenting a significant tourist and heritage opportunit
y for the North West.
A spokesman for the Metro said that a project was currently under construction in China and the Wigan proposition would, in part, be modelled on that.
Specialist consultants Liverpool based L and R Leisure have recently been appointed to undertake a feasibility study into the potential development of the temple on the former power station site at Westwood, although its specific location has yet to be confirmed.
The Metro spokesman added: "They will look into the economic and tourism potential of the Temple. "It will also help us to understand what public sector and other interventions will be needed to secure the project, should it prove to be a practical opportunity."
A spokesman for the North West Development Agency said: "We have been made aware of it and remain supportive although it is very early days yet and we haven't seen anything concrete yet."