Pinkama to pass merit to late Minister Jeyaraj Fernandopulle
by Tissa Madawela, Lanka Everything, April 11, 2008
London, UK -- On the day of his funeral, a special Puja was held at the Sri Saddatissa International Buddhist Centre in Kingsbury to remember and pass merit to late Hon. Minister Jeyaraj Fernandopulle.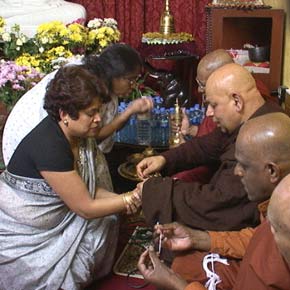 United Kingdon branch of the Sri Lanka Freedom Party organized the Puja. Ven. Galayaye Piyadassi Nayaka Thera, Head of the Vihara and all the resident monks took part in the programme.
President of the SLFP UK Branch Mrs. Rani Bulathwela and the committee members and a large gathering of Sri Lankans of all faiths also took part in the evening Puja.
Hon. Maithreepala Sirisena, Minister of Agricultural Development & Agrarian Services and the General Secretary of the SLFP, The High Commissioner for Sri Lanka H.E Mrs.Ksenuka Seneviratne, Deputy High Commissioner Mr. Sudantha Ganegamaarachchi and many diplomats from the Sri Lankan High Commission were among the participants.
Ven. Galayaye Piyadassi Nayaka Thera in his Anusasana said that 'he knew the late Minister Mr. Fernandopulle for a very long time and that although he was not a Sinhalese or a Buddhist he has always attended to the needs of Sri Saddatissa Buddhist Centre'.
Every time when he was in London he always took time to visit the temple. He has donated a library with a large amount of valuable books to the temple and attended our New Year celebrations to. I remember when his mother passed away in December last year I was there and saw more than 300 Buddhist Monks taking part in the funeral. It was an extraordinary achievement for a non-Buddhist.
Although he was a devout Catholic and hailing from a minority community, he spent time in the temple, church and kovil, respecting each religion. I know as a fact that Mr. Fernandopulle has done more to assist Buddhist temples than many of other Buddhist leaders I know.
He was also a major player in the battlefront of bringing peace to Sri Lanka had the patience needed for the regulating table and the bravery needed for the fight against terrorism in ample measure. The Minister fought against the evils of terrorism and separatism.? said Ven.Piyadassi Nayaka Thera.
A Mthakawasthra was offered to the Maha Sangha and Penwedeema was conducted to offer merits to the late Minister.