Thich Nhat Hahn heads home to Vietnam after 38 years in exile
Channel News Asia, Jan 12, 2005
PARIS, France -- Vietnamese Buddhist monk Thich Nhat Hanh, who has built an international following during 38 years in exile, left France to return to his home country for the first time since 1967.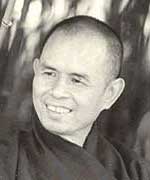 << Ven. Thich Nhat hahn
Thich Nhat Hanh, who hailed what he called the Vietnamese government's "effort at opening up" before boarding an Air France flight from Paris to Hanoi, said he hoped to teach across Vietnam for the next three months.
The monk, who received an entry visa at the end of last year, also plans to set up Buddhist meditation centers during his stay.
"The Vietnam that I left nearly 40 years ago no longer exists," said the monk, smiling and sipping tea before his flight from Charles de Gaulle airport.
Thich Nhat Hanh, affectionately referred to as 'Thay' or 'Master' by his followers, said he hoped to "dispel the doubts and fears" of the Vietnamese government about his church and teachings.
The monk, who is in his late 70s, studied comparative religion at Princeton University in the United States in the early 1960s. Returning home in 1963 as war raged, he was sent into exile by Vietnamese authorities in 1967.
Thich Nhat Hanh then gained asylum in France, where he began teaching at the Sorbonne in Paris. He later headed the Buddhist delegation to talks that led to the Paris peace accords in 1973.
In 1982, he moved to southwest France, where he founded Plum Village, a Buddhist monastery and retreat that is home year-round to 150 monks, nuns and resident lay practitioners.
A delegation of 200 followers, mainly from France and the United States, will accompany Thich Nhat Hanh on his initial three-month visit to Vietnam.
Several dozen of them, wearing brown tunics and sporting shaved heads, meditated or performed stretching exercises in the hallways of Charles de Gaulle airport before Tuesday's flight.
"Things are not simple. I must listen closely. I'll be surrounded by 200 people trained to listen closely," the monk said.
Sister Chan Khong, a faithful assistant to Thich Nhat Hanh who has been a follower since 1960, said: "We want to put peace in people's hearts -- we have no ambition to take power."
The monk does not belong to the Unified Buddhist Church of Vietnam (UBCV), which was banned by authorities in 1981 for refusing to come under the ruling Communist Party's control.
Vietnamese security police launched a sweeping crackdown on the church more than a year ago, putting senior monks under house arrest and placing hundreds of pagodas under surveillance.
When asked why certain religious movements had been banned in Vietnam, Sister Chan Khong replied: "The flags of the old regime are hidden behind some of these churches. We have no political ambitions."