Buddhist mum in school place appeal
By Sophie Barley, Scarborough Evening News, May 19, 2008
Scarborough, UK -- A FORMER nun, whose son was turned away from Scarborough's only faith secondary school, will appeal against the ruling next month.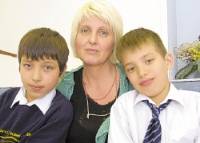 << FIGHTING ON ... Soony Brookes, left, his mum Caroline and brother Riggy Picture by Dave Kettlewell
Caroline Brookes, of St Mary's Walk, applied for her 10-year-old son Soony, who is a Buddhist, to attend St Augustine's Roman Catholic School, in Sandybed Lane, in September.
However the local authority told her he will be starting at Raincliffe School, in lady Edith's Drive, instead.
Mrs Brookes is distraught over the decision, saying Raincliffe is not the right place for her son.
Soony even pleaded with his mum to be christened a catholic just so he would get into the faith school.
Mrs Brookes, who used to work as a Buddhist nun in India, said: "There has been a lot of tension between me and Soony throughout all this. When he said he wanted to leave buddhism and become a catholic I was horrified.
"He has said he did want to do that but he is just so desperate to go to St Augustine's.
"That is where all his friends are going and it is the only school in this area that he would fit into."
St Augustine's School was heavily oversubscribed this year, with 155 children applying for the 86 places available.
Mrs Brookes will appeal against the decision on June 13. She will have to convince an independent panel that St Augustine's School is the right school for her son. Soony currently attends St martin's Church of England School, in Holbeck Hill.
Mrs Brookes said: "St Augustine's School is the only faith secondary school in this area so it would provide the right environment for Soony. What is the point in having a local faith school if only catholics can attend?"
Soony said the main reason he wanted to attend the school was because it has a prayer room.
He said: "At Raincliffe there is nowhere I can sit and pray. At St Augustine's there is a special prayer room, which is really nice.
"Also all my friends are going to St Augustine's. No- one I know is going to Raincliffe so it would be really hard for me there."
Mrs Brookes said she had looked into home tuition for Soony but she would struggle to afford it.
"This is becoming a nightmare for us. If the appeal does not work then I don't know what we will do. I have thought about home tuition but it is expensive and it will mean he will not be with his friends. We are just praying the appeal will be successful."
Roger Cannon, headteacher at St Augustine's, said: "We express our sympathy to all the families who could not get a place. We were very heavily over subscribed which has meant there will be three weeks of appeals.
"We have to stick to our code of practice when allocating the places. however I did encourage families to appeal."