Dalai Lama reaches out to non-Buddhists in UK
By GREGORY KATZ, AP, May 24, 2008
LONDON, UK -- Late-night revelers in London's pricey Mayfair district may see a light on if they amble past the London Hilton at 3:30 a.m. That's when the Dalai Lama rises for four hours of meditation, even when he is on the road.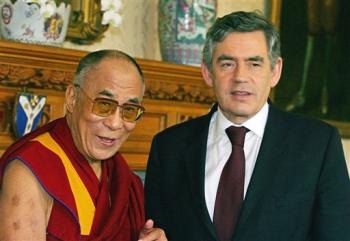 << The Dalai Lama, left, who is on a tour of Britain meets with Britain's Prime Minister Gordon Brown at Lambeth Palace in London Friday May 23, 2008.
His pronouncements about China and the Olympics have made headlines, but the Tibetan Buddhist spiritual leader's visit to Britain has a religious dimension as well, particularly in the coming days as he delivers a series of lectures on nonpolitical matters.
The Dalai Lama told The Associated Press that several of his talks will deal primarily with Buddhist themes but most will be aimed at non-Buddhists, including those who hold no religious beliefs and do not believe in God.
"Mainly I'll be talking about human values and what I usually call secular ethics," he said of his packed lecture schedule, which includes talks in Nottingham in central England. "Using secular ethics and a secular way of approach. That is my main objective and I plan to talk about that."
He said these talks, focusing on compassion and ways to lead a happy life, can be useful for nonbelievers and those who adhere to other religions. The same is true of his talks on the final two days of his visit that will be specifically about Buddhism.
"My usual explanations about Buddhism are mainly about the philosophy and the concepts, not about how to practice daily," he said. "So, of course, non-Buddhists and even atheists can participate. I was in America teaching and a Catholic monk also participated with me."
The Dalai Lama, who won the Nobel Peace Prize in 1989, is now 72 but shows few signs of slowing down.
His life was changed forever at age 2 when he was recognized, according to Buddhist tradition, as the reincarnation of his predecessor, the 13th Dalai Lama. He was taken from his village in northeastern Tibet to the capital, Lhasa, where he started his education and religious training at age 6.
He assumed political power in Tibet in 1950 — at age 16 — and had to deal with the advance of the Chinese military into his homeland, which eventually led to his exile in northern India in 1959.
The Dalai Lama has fought since then to keep Tibet on the world's agenda, and to preserve the Tibetan Buddhist tradition despite the political pressures. Still, his unlined face, usually defined by his familiar, full-court smile, has changed little over the years.
The only obvious concession to age comes when he walks down steps — his aides have started to warn him when steps are coming up so he can negotiate them with extra care.
He still keeps his intense meditation schedule, said Kelsang Gyaltsen, the Dalai Lama's envoy.
It's a daily routine that helps the Dalai Lama stay positive and focused and prepared for the meetings with journalists, politicians and Buddhists that will fill up his day, Gyaltsen said.
"He calls it an analytic meditation," said Gyaltsen, who has worked with the Dalai Lama for many years. "He's trying to reason, trying in his own way to shape his mind so that his thoughts are energized and so that he can spend his whole day serving as best he can, being useful to other people."
The Dalai Lama usually has breakfast before starting his meetings at 9 a.m., and also eats lunch, but — like other Buddhist monks — he does not eat solid food after that, the envoy said. That rules out lavish dinners or other evening engagements.
Usually his schedule shuts down at 5:30 p.m., even when he is in London or other world capitals, and he often goes to sleep by 7 or 8 p.m. after a final cup of tea, Gyaltsen said.
The Dalai Lama hopes to continue his spiritual role until his last days on Earth, but he would be happy to jettison politics if an agreement over Tibet's future can be reached with China, the envoy said.
"As soon as there is an understanding and we can solve that problem, he will hand all his political authority to the legitimate Tibetan government and from then on he will have no political role," Gyaltsen said.
Unlike most visitors on an 11-day sojourn to England, the Dalai Lama does not have the time to take in the sights. He is too tightly scheduled to visit the Tate Gallery, St. Paul's Cathedral, or the Royal Botanical Gardens at Kew.
Doesn't he wish he had time for some impromptu sightseeing as springtime envelops one of the world's great cities?
"These days I think I'd prefer complete rest," the Dalai Lama said, laughing once more before rushing off the meet the Archbishop of Canterbury and the British prime minister.