Buddhism meets Football in Hamburg
by Michael den Hoet / Chris McMahon, The Buddhist Channel, June 20, 2008
Hamburg, Germany -- Bathed in glorious sunshine, tens of thousands of fans recently crowded the Heiligengeist fairgrounds, not far from the centre of Germany's harbour city Hamburg.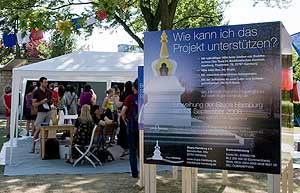 They were there to cheer the opening games of the 2008 European Football Championships, broadcast live on a giant screen from Austria and Switzerland. Football (US: soccer) is Germany's national sport.
Just across the road and partly protected from the noise by a row of trees and bushes, an alternative event takes place: a festival to celebrate the historical Buddha's birthday. Twenty two Buddhist centres and groups from a wide range of Buddhist traditions gathered on 8 June to celebrate Vesak, the world's most important Buddhist holiday.
Despite Hamburg's great enthusiasm for football, the Vesak event here was never 'offside'. During the day an estimated 7000 people joined the celebration in the "Großen Wallanlagen", an area of grassy banks surrounded by ponds, shady trees, a playground and skating rink in one of Hamburg's most popular parks.
Those attending heard talks by respected Buddhist teachers, joined in Buddhist ceremonies, took part in meditation sessions and even tried their hand at Zen archery – with expert guidance of course! Buddhist music, dance and theatre were performed to appreciative audiences at an open-air ampitheatre, and next to the park's playground a family picnic and children's programme left our smallest visitors with happy memories of the day. Several large tents with information stands gave participating groups the chance to present themselves to visitors to the festival, while physical appetites were also catered for by Asian restaurants serving delicious Thai, Tibetan and Vietnamese
specialties.
Well-known public figures also attended the opening ceremony. In his welcome address the Mayor of the Borough of Hamburg-Mitte, Markus Schreiber, pledged to support the planned construction of a 9 metre Stupa in the park. He described this monument with a Buddhist background as a symbol of peace that will emphasise the city's international character and a suitable addition to Germany's harbour city.
In her opening address, the world's first female Lutheran Bishop, Maria Jepsen, praised the peace-making nature of Buddhism and the warm relationship between Christians and Buddhists in Hamburg. The city has a flourishing Buddhist scene with over 40 centres and groups representing a wide range of traditions. Buddhism in Germany has an excellent reputation: Polls in Germany frequently rate the Dalai Lama, who spent ten days teaching large audiences in Hamburg last year, as one of the most respected international figures worldwide.
Vesak is the most important Buddhist festival, and is also celebrated by Buddhist traditions in the west. In Germany public events in Munich, Berlin and Frankfurt regularly take place. This year's Hamburg celebration was slightly late compared with most Asian countries: The festival's date was a compromise between the city's cultural calendar and the programmes of the various Buddhist centres. The eventual choice for the event – 8 June – proved perfect: the warmest day of the year so far, in a city where the weather is highly unpredicatble.
Many visitors found the near vicinity of a contemplative Buddhist festival to a noisy fooball fan fest a little strange. Most Buddhists, however, were pretty relaxed about it: "You can look at it as a symbol that Buddhism has arrived as a central part of our society" commented Zen Buddhist Dr. Holger Stienen with a smile.