Buddhist meditation classes at new Burnley super-school
Lancashire Telegraph, September 23, 2008
East Lancashire, UK -- MEDITATION classes led by an orthodox Buddhist monk could be held for students at a new super-school.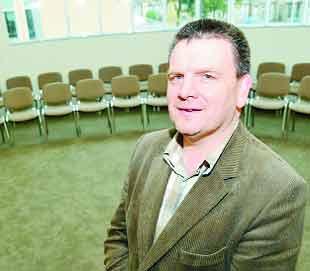 << Terry Murnane, community faith co-ordinator, at the centre in Barden Lane
The sessions have been proposed to take place at the Burnley and Pendle Faith Centre at the Burnley Campus, in Barden Lane.
The campus was officially opened on Monday September 8 as part of the first phase of Lancashire County Council's £250million Building Schools for the Future (BSF) project.
Terry Murnane, the community faith co-ordinator at the centre, said he was currently 'in discussion' with the Buddhist monk about the possibility of holding the classes, provisionally on a weekly basis on Wednesday evenings.
The centre, which was established in September 2006 and originally located in Heald Road, aims to provide a focus for the educational, personal and spiritual development of all young people and improve community cohesion in East Lancashire.
Mr Murnane said: "It is a quirky idea and we're trying to gauge interest at the moment.
"There is a Buddhist community in and around Burnley and the fact that this monk has come forward and approached us shows that he is interested and intrigued by the very nature of the new campus.
"What is fascinating is the sheer diversity of the people coming in here. There is a real variety."
As well as the prospect of meditation classes, there is already a prayer room where several Sixth Form students have held Jum'ah prayers.
And the centre is also running a competition where individuals or groups are invited to produce a minute-long film about the true meaning of Christmas.
Since opening its new site three weeks ago the new facility has also played host to students from Stonyhurst College and the Bereavement Group.
Mr Murnane said they have received some "excellent"feedback.
He added: "In essence the facilities are similar to the old ones, but newer.
"We have had a plethora of activities for schools in the first two years and we welcome people from all different faiths as well as those with no faith a long as they are respectful."
The Burnley Campus also comprises primary, special and nursery schools, a faith centre, and a community centre.
Anyone interested in the classes should contact the centre on 01282 682275.