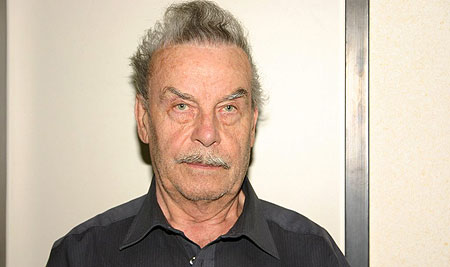 Evil Fritzl spends much of his 23 hours a day in his cell studying the peaceful Far Eastern philosophy and is considering formally changing his religion in prison.
Speaking through his lawyer Rudolf Mayer, Fritzl said that he has found a lot of comfort in reading Buddhist literature and finds the religion "fascinating".
Fritzl first discovered Buddhism on a family holiday in Thailand but has only started studying the religion in depth while behind bars.
Prosecution sources remain suspicious of his Buddhist conversion.
"It's a bit late in his life to present himself as a man of peace. If he ever gets reincarnated, what would he come back as? Even making him a worm would be an insult to worms," said one.
Fritzl's facing the rest of his life in jail after imprisoning his daughter Elisabeth as a sex slave in a home-made cell under the family home in Amstetten, Austria. She was locked up for 24 years where she gave birth to seven of his children. An eighth child was miscarried.
But the dungeon demon has astonished medics by asking them to cure him so he can start a new life with his family.
"I realise now that I am not normal, and I see that somebody who did what I did cannot be regarded as normal.
"With the help of therapists I want to know what the real reasons are for why I behaved like I did and I want to get treatment, I want to be healthy again at some point," he told his lawyer.
And the deluded demon says he hopes therapy will lead to a reunion with wife Rosemarie and their children.
"I hope one day that we will be able to live together again," he said.
Fritzl, 73, has dismissed psychological reports that his cold, emotionless upbringing turned him into an incest monster.
"I don't want to blame my mother for the way I am. There's been enough bad things said about her. I don't know what the answer is and there is no solution in simply saying she is responsible for everything," he said.
Towards the end of her life cold-hearted Fritzl kept his mother locked up.
"She was not a bad woman although she had psychological problems that led her to be aggressive right up until she died - something which got worse in old age when she suffered from dementia as well.
"I forgave her a long time ago for what she did for me because I know she had a very hard life. At the end she always wanted to dress herself in rich clothes and it was one of the saddest days of my life when I went to her funeral and saw how few people had bothered to turn up," he explained.
Fritzl has also begun studying law behind bars to help him beat the charges he faces - murder, rape, slavery, incest, imprisonment and abuse.
Now it has emerged that Fritzl has been pouring over legal books about Austrian law looking for loopholes to save his neck.
While he will admit four charges which would put him in prison for a maximum of 10 years - he rejects the two more serious allegations that could see him locked up for life.
He claims that the charges of murder and slavery have been manufactured to make sure he is never free again.
Fritzl told his lawyer Rudolf Mayer: "I am guilty, but only to the first four charges, not to slavery and not to murder. The truth is that I am not a murderer either by accident or deliberately.
"I can understand how Elisabeth feels. I know that she hates me and that she is terrified I might one day again see freedom. But the fact is that many of the things she has said are just not true."
Astonishingly he admits to threatening to kill his cellar family with gas or electric shocks - but claims he never intended to go through with it.
"It is true that when they were underground I threatened them with murder, and led them to believe they would die from electricity shock or be gassed if they tried to escape. But I am not a murderer," he told his legal team.