Dalai Lama Calls on Polish President, Awarded Wroclaw Citizenship
Phayul, December 11, 2008
Dharamsala, India -- His Holiness the Dalai Lama called on the President of the Republic of Poland, Lech Kaczynski, at the presidential palace yesterday in Warsaw, according to a report sent by the London based Office of Tibet.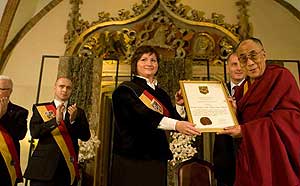 << His Holiness receives the honorary citizenship of Wroclaw city from the Chairperson of the City Council, Mayor Rafat Dutkiewicz is seen behind His Holiness.
His Holiness also participated in an event at Wroclaw City Hall where he was presented an Honorary Citizenship of the City of Wroclaw by the Chairperson of the City Council. His Holiness who was in Polish city of Wroclaw arrived yesterday afternoon in Warsaw, the Polish capital.
The Polish President said he supported His Holiness' effort to bring autonomy for Tibet and his contributions in the field of spirituality.
His Holiness told the President of Poland that he enjoyed meeting with the Polish people during his last few days visit to the Polish cities of Gdansk, Krakow and Wroclaw, and that he was greatly moved by their solidarity. He said he had always admired the Polish people's spirit of Solidarity and their attainment of freedom peacefully.
Presenting the President with a copy of the "Memorandum on Genuine Autonomy for the Tibetan People", His Holiness said he is seeking only meaningful autonomy with full guarantee to preserve the Tibetan Buddhist culture and tradition that is systematically being destroyed in Tibet. China had however rejected the Memorandum on Genuine Autonomy for the Tibetan People submitted by the Tibetan envoys at the eighth round of talks that both the sides have accepted as a failure. Calling the memorandum an "agenda of independence", the Chinese side increased its usual anti-Dalai Lama rhetoric.
The Polish President commended the contribution of His Holiness in the field of spirituality. He said he agreed with His Holiness' view that nations should have good relations with China but take a principled stand on matters relating to human rights and democracy.
His Holiness flew this afternoon in a Polish government plane to Warsaw where he was received by a representative of the Speaker of the Senate, a representative of the City of Warsaw and Mrs. Beata Bublewicz, chairperson of the Parliamentary Group for Tibet.
His Holiness will visit the Polish Parliament where he will call on the Speaker of the Senate, Speaker of the Sejm (Lower House), members of the Foreign Affairs Committee. He will also be meeting members of the Polish Parliamentary Group for Tibet and other parliamentarians. His Holiness will also visit the City Hall to meet the Mayor of Warsaw who is organising the Tibetan leader's public talk on the "Peace, Compassion and Universal Responsibility".