Zen and now
The Buddhist Channel, Feb 22, 2005
Blackmountain Mindfulness Centre, the first ever Zen centre in Northern Ireland opens today
Belfast, Northern Ireland -- Paul Haller, Abbot of San Francisco?s Zen Meditation Centre, was back on familiar shores yesterday in preparation for the official opening of the Blackmountain Mindfulness Centre, the first ever Zen centre in the North.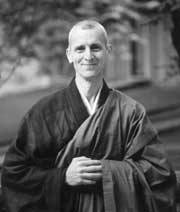 << Ryushin Zendo (Paul haller) is the founder and formerly Director of Outreach at SFZC, Paul is interested in finding ways of expressing our practice in society, both as compassionate service and making it available to as many people as possible
Originally from Cullingtree Road, off the Falls Road, Mr Haller said he was delighted to be invited back to Belfast to open the meditation center. The Californian-based Buddhist monk said, ?I?m extremely pleased to be here for the official opening on Tuesday.
?We will also be having a four-day retreat starting this Thursday. The opening is a big step for the group. I can sense a lot of enthusiasm and optimism for the future of the centre,? he said.
Leaving Belfast for Japan over 30 years ago, the West Belfast man found the Buddhist religion and has been a practising Zen Buddhist for 32 years.
Abbot Haller is a well-respected and high-profile Zen teacher in the US and was instrumental in founding the Zen centre in Belfast, located opposite St Anne?s Cathedral.
?I have been travelling back to Belfast for the last six or seven years. I started coming back to work with victims from both sides of the conflict and organised retreats and started to teach meditation to help people here.?
On one of his visits Abbot Haller organised a peace meditation walk from his native area of the Falls, finishing on the other side of the divide ? the Shankill. After years of being inspired by the teaching of Zen by Abbot Haller, husband and wife team Frank and Brenda Liddy started to consider the possibility of starting a Zen centre for the people of Belfast. Thus the idea of the Blackmountain Mindfulness Centre was born.
Founding member Brenda said, ?It is a great honour to have Paul here. He is a very high-profile Zen Abbot and his diary is usually very full but he always seems to make time for coming over to Belfast to teach us and to guide us in our study of Zen meditation. We are very fortunate to have him.?
During his week and a half stay in the North, Abbot Haller will ordain five lay practitioners in a ceremony in Benburb next Sunday [27th] enabling them to teach the art of Zen to the centre?s visitors.
?Zen helps people settle their minds, experience calmness and release from their anxieties and concern. It allows your mind to be quiet,? said the Zen Abbot.
The launch for the centre will take place on Tuesday at 7pm at 64 Donegall Street in the Cathedral Quarter. Contact Frank 0786 3133 424 for further details of events.