Tibetans and Buddhist Community Dedicated Special Prayers & Tsok Offering for Late Kyabje Penor Rinpoche
Tibet Custom, May 7 2009
London, UK -- The Tibetan Community in Britain, in association with Palyul Centre (UK) and Rigpa Buddhist Centre (London) hosted a special prayer ceremony with Tsok offering to honour the late Kyabje Penor Rinpoche, at the Rigpa Centre in north London, on Sunday 3rd May.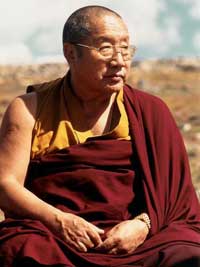 The special prayer ceremony was conducted by Venerable Khenpo Pema Choephel Rinpoche, resident spiritual director of Palyul Centre and several Tibetan Buddhist monks including Venerable Lopon Tsewang Gurung, a Buddhist Chaplain for the British Gurkha Army.
About 150 Tibetans and Buddhist members joined in to pay their respect and prayed for the quick rebirth of the reincarnation of the Kyabje Penor Rinpoche.
The 11th Throne-holder of the Palyul Lineage of the Nyingma School of Tibetan Buddhism, His Holiness Pema Norbu Rinpoche passed away on Friday, 27 March 2009, at the Namdroling Monastery in Bylakuppe, south India.
"His Holiness Penor Rinpoche remained in Thugdam (a meditative state) for almost eight days until Friday, 3 April 2009", said Khenpo Choephel. "His Holiness Penor Rinpoche was one of the last greatest Tibetan Buddhist masters upholding the complete lineage and realisation of the Nyingma (Ancient) Tradition. His Holiness visible achievements are too numerous to list fully, not to mention the full spectrum of his hidden activities for the benefit of all sentient beings", the resident Nyingma spiritual teacher addressed the gathering, which was translated by Dr Karma Phuntsho, a Bhutanese scholar, from Cambridge University.
Tibetan Community Chairman, Pempa Lobsang welcomed the members attending the special gathering and expressed its importance whilst sharing his aspiration of preservation and continuity of Tibetan culture in the UK.