Dalai Lama "Honorary Citizen" Of Budapest
By Tamas S. Kiss, BudapestReport.com, Sept 7, 2010
Budapest, Hungary -- For the first time in more than a decade, the Dalai Lama, the Buddhist leader of religious officials of the Gelug or "Yellow Hat" branch of Tibetan Buddhism is scheduled to visit Hungary on Sept 18-19.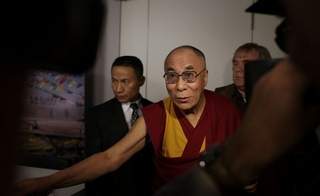 << Dalai Lama "Honorary Citizen" Of Budapest, Award to be presented by outgoing Budapest Mayor Gabor Demszky
Tickets for his lecture are already sold out, according to reports, as it has sparked international interest due to the visit marking his last trip to Europe in 2010.
Despite this, the Lama is not scheduled to meet Government officials, and will only be accompanied by his personal bodyguards and staff of 10. The Lama's secretary has requested his residence to be classified, according to Hungarian media reports.
His Holiness was nominated "Honorary Citizen" of Budapest by the City Council in August. The award will be presented by outgoing Budapest Mayor Gabor Demszky.
"Lama" is a general term referring to Tibetan Buddhist teachers. In religious terms, the Dalai Lama is believed by his devotees to be the rebirth of a long line of tulkus who descend from the bodhisattva Avalokitesvara. Traditionally, he is thought of as the latest reincarnation of a series of spiritual leaders who have chosen to be reborn in order to enlighten others. The Dalai Lama is often thought to be the director of the Gelug School, but this position belongs officially to the Ganden Tripa, which is a temporary position appointed by the Dalai Lama who, in practice, exerts much influence.
For certain periods of time between the 17th century and 1959, the Dalai Lamas sometimes directed the Tibetan Government, which administered portions of Tibet from Lhasa. From 1959 to 2001, the 14th Dalai Lama controlled the Central Tibetan Administration ("Tibetan government in exile"). He has indicated that the institution of the Dalai Lama may be abolished in the future, and also that the next Dalai Lama may be found outside Tibet and may be female.