Tibetan Buddhist temple to be built on Beara peninsula
The Irish Times, September 27, 2010
Co Cork, Ireland -- A FUNDRAISING campaign has been launched by the Tibetan Buddhist community in Ireland to build its first temple in Allihies on the Beara peninsula in Co Cork.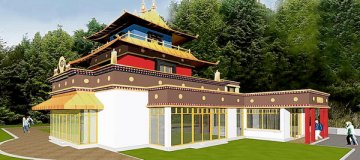 Billed as "the first of its kind in Ireland", the traditional-style temple is to be built on a site adjoining Dzogchen Beara, the Tibetan Buddhist retreat centre in west Cork. Dzogchen translates as "great perfection".
Planning permission for the €1.8 million project has been granted by Cork County Council.
The building itself is expected to cost €1 million, with an additional €800,000 for sacred decoration, landscaping and ancillary structures.
To date €112,000 has been raised for the project, on which work is expected to start next year.
The temple will function as a meditation centre for Dzogchen Beara, which runs a programme of year-round weekend retreats and daily guided meditation sessions which are attended by beginners and people of all faiths – and those of none.
Located on the cliffs of the rugged Beara peninsula, the site "offers unparalleled peace and respite in an extraordinary natural environment", with peaceful gardens, cottage and hostel accommodation, a tearoom and bookshop.
The site of the temple was consecrated this month with a sacred fire ceremony by Orgyen Tobgyal Rinpoche, a Tibetan master who has supervised the construction of many Buddhist temples, most recently in southern France.
Rinpoche has guided the project from the start, working with a team of architects to select the site and orientation of the building, and ensuring the design is authentic to the Tibetan tradition while incorporating modern construction techniques.
The 14.5m high temple will be unlike anything in Ireland. The main meditation room of 187sq m will have floor-to-ceiling windows overlooking the Atlantic Ocean and will seat 250 people.
Dzogchen Beara has a proven track record with large construction projects. Last year the community opened a spiritual care centre which offers respite to those who are seriously ill and dying, as well as their carers, family and friends.
"The care we offer is to help people feel comfortable and at ease with themselves and their world, which can actually be the greatest healing of all," said the centre's director Matt Padwick.
He described Tibetan Buddhism, which has been attracting more and more Irish adherents, as "distilled wisdom and compassion that can transform our hearts and minds, and make a real, lasting difference in our lives".
Further information from www.templeproject.dzogchenbeara.org