Buddhists from Ipswich and Colchester visit India
BBC, 18 February 2011
Bodh Gaya, India -- A group of 28 religious pilgrims have visited holy sites in India and Nepal. Members of the Ipswich and Colchester Buddhist centres took in places which are central to the first Buddha's life and death.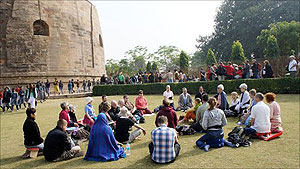 << The Ipswich and Colchester Buddhists meditate at the Deer Park, Sarnack
They also visited other tourist sites such as the Taj Mahal and the River Ganges.
"All in all, it was a physically gruelling but spiritually uplifting experience," said Swadipa, a Buddhist from Ipswich.
The tour was arranged through an Ipswich travel company and it cost each person around £2000.
Swadipa, who used to be an NHS doctor at Ipswich Hospital, said: "There was a lot of anticipation and anxiety about going.
'Overwhelming experience'
"India's quite a scary place to go to because you hear about the poverty, that it's going to be busy and it can be quite an overwhelming experience.
"The weather was much colder than we expected - overcast, misty and temperatures were cold (6-7C) and the whole group seemed to go down with a flu-like virus."
They aim was to visit the sites where important events are believed to have taken place in the Buddha's life.
These were the place of his birth in Lumbini, his enlightenment at Bodh Gaya, his first teachings at Sarnath and his death at Kusinara.
"I don't think we were sure in what way it was going to be fulfilling before we actually went," said Swadipa. "In some ways, I'm still not sure now - it's still maturing.
"The sites themselves where these great events took place were very, very busy with thousands of pilgrims, street hawkers, beggars and people wanting to guide you.
"They're not peaceful oases of tranquillity, but the overall effect was very powerful and I think it makes the Buddha's life more real to you because you're actually in the places where things happened."
He said he got most from the visit to Sarnath.
"It was a very peaceful park with little raised areas around the trees where people would, even to this day, sit down and talk," said Swadipa.
"You could imagine the Buddha walking out of the forest, walking across the park, sitting down, meeting his friends and telling this great story of his discoveries.
"There is an aspect that the teachings are all real and meaningful and still as relevant to us now as they were to people 2,500 years ago during the Buddha's life."
"I think one of the strong things that emerged was the effect on the sangha - the community who follow the Buddhist teachings."
"These 28 people, some of whom I didn't know very well, we bonded very well. We were on a common theme.
"I think the feeling of connection between us remains strong.
"When you look back on all the different sites and locations, you get a feeling of awe that this man inspired in people to build all these statues."