Looted priceless ancient Buddhist artefacts seized in US returned
Reuters, March 9, 2007
ISLAMABAD, Pakistan -- Thirty-eight ancient Buddhist artefacts dug up by treasure hunters and smuggled to the US were officially returned to Pakistan yesterday. An alert customs officer in Newark, New Jersey, seized the shipment of artefacts, some nearly 2,000 years old, in September 2005. An investigation then began to determine where they came from, said US ambassador to Pakistan Ryan Crocker.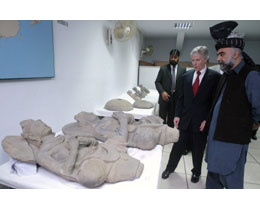 << US Ambassador to Pakistan Ryan Crocker (second right) inspects ancient Buddhist artefacts with Pakistan's Minister of Culture Ghazi Gulab Jamal in a museum where the pieces are on display in Islamabad
"This is a long and painstaking process. Heritage of this value and consequence has to be properly researched and investigated to determine its true origin," Crocker said at a ceremony at a museum in the Pakistani capital.
"Now they're back where they should be."
The collection included a relief panel depicting a dance scene, a frieze showing monks meditating, various Buddha statues and other items from the Gandhara civilisation, when Buddhism flourished across what is now Pakistan and Afghanistan.
They were dug up - and in some cases damaged in the process - in northern Pakistan.
"It, literally, is a collection beyond price and ... we're very, very, very pleased to have played a role in restoring this legacy to the country that produced it," said Crocker, who will soon take over as US ambassador in Iraq. Pakistani Minister of Culture Sayed Ghazi Gulab Jamal said it had not been possible to stop the illegal export of artefacts, in particular Gandharan sculptures.
But he said he was encouraged by the stand of the US against the "international gangsters" who deprived countries of their culture.
"No nation should be deprived of its cultural identity and cultural wealth," Jamal said.
The US was determined to stop the smuggling of artefacts, said Keith Ryan, immigration and customs enforcement attache at the US embassy in Islamabad.
"We take our obligation seriously to intercept antiquities coming in to the US," Ryan said.
"This is the heritage of Pakistan," he said in a small museum room where the pieces were on display.
No arrests had been made in connection with the seizure.
"The criminals hid their tracks," he said. The recovered artefacts would be put on display at various Pakistani museums, an archaeology department official said.