New gilded pinnacles on Aagam Chhen Shrine in Itumbaha Monastery
The Rising Nepal, July 21, 2005
KATHMANDU, Nepal -- Four new gilded pinnacles (gajur) were installed today on the ridge of the Aagam Chhen shrine under the Itumbaha Monastery, marking the completion of the restoration of its south and west wings.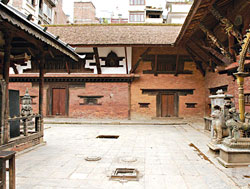 << The courtyard of the restored Itumbaha monastery
Both the wings have been restored and renovated with the support of the Federal Republic of Germany under the Itumbaha restoration project that began in 2002.
During the first project phase, the south wing housing the secret deity in the Swayamadu Aagam Chhen was completely rebuilt, while the second project phase saw the restoration of the west wing with the shrine of Achhyobhya Tathagat.
The east wing will be repaired in the third phase with matching financial contribution from the World Monuments Fund, it is learnt.
The restoration of the Itumbaha is the third project under the Kathmandu Valley Preservation Trust?s Buddhist Kathmandu Campaign. It started in 1999 with the restoration of Chhusyabaha with the financial support of the German Embassy and was followed by the restoration of Yetkhabaha Aagam building with the support from UNESCO.
The letters of appreciation were presented to German Ambassador Franz Ring, former German Ambassador Rudiger Lemp, the learned scholar of Nepalese Chaityas Dr. Niels Gutschow and First Secretary of the Germany Embassy Klaus Tesch in recognition of their kind and generous support in renovation work on behalf of the Sangha, the monastic community of elders.
Presenting the letter of appreciation to the First Secretary, Minister for Culture, Tourism and Civil Aviation Buddhiraj Bajracharya said that the Nepalese heritage must be preserved to keep the identity of the Nepalese intact.
First secretary Tesch recalled the contribution made by German scholar Gutschow in the restoration work and thanked all those involved in it.
About the Itumbaha
Itumbaha is one of historic Kathmandu?s oldest and most important Buddhist institutions still surviving in its original design. The social topography in the neighbourhood is still intact. Hundreds of faithful worshippers come each morning, but especially during the holy Buddhist month of Gunla (August) to pay their respects to the Buddha Aksobhya on the ground floor of the central shrine and to admire the treasures of the monastery displayed there.
In 2000, the Itumbaha complex was put on the World Monuments Watch list thus making it an endangered heritage worthy of protection. The Kathmandu Valley Preservation Trust initiated a fundraising and awareness campaign to safeguard the monastery.