In Nepal, little prince settles in
Seattle Times, December 30, 2005
Kathmandu, Nepal -- The little prince is now at a monastery in Nepal, studying scripture about six hours a day and visiting holy sites such as Buddha's birthplace.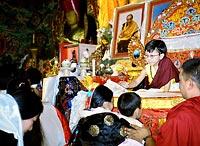 << This photo was taken inside the main temple of the Tharlam Monastery on Asanga Sakya's sixth birthday in May. He is giving blessings to the hundreds who attended the celebration.
Asanga Sakya, 6, who until this spring lived with his parents in Shoreline, is a crown prince of the Sakya order of Tibetan Buddhism. He may one day become leader of the 100,000 Sakya Buddhists worldwide. But if he is to do so, he will have to spend years studying with Buddhist monks.
In April, his parents — Ani Sakya, an attorney at Starbucks, and Chimey Sakya, a homemaker — took their son to Tharlam Monastery, outside Kathmandu. There, Asanga will most likely stay until he is a young adult.
Asanga's parents talk weekly on the phone with their son, and they told him recently that he should expect a baby brother or sister in March.
Asanga said: "Make sure the baby knows about me," Chimey Sakya said. "I told him: 'We'll show the baby your picture every day because we talk about you every day.' "
His sister, Aloki, 4, misses him, and to comfort her, the family sometimes plays a game, pretending Asanga is still at home. Upon waking up, for instance, they call out together: "Good morning, big brother!"
His parents said Asanga is well-cared for and is thriving in his studies. Asanga's private tutors know they can cut back on study time if he finds the work too rigorous. But "he wants to learn," Ani Sakya said. They were proud to hear that four months after Asanga arrived at the monastery, he recited from memory almost two hours of Tibetan prayers, a difficult task for someone his age.
"We miss him very much in our lives here," Chimey Sakya said. But of their decision, the Sakyas have no doubts.
Here, "he wouldn't get the most out of his life," Ani Sakya said. "America, with all the distractions there are — it wouldn't help him be a lama," he said. "In return, he'll come back and teach and help many people, not just us or Tibetan Buddhists."