Wecoming back the lama
By KEE HUA CHEE, The Star, March 18, 2006
On Oct 15, 2001, Mahasiddha Geshe Lama Konchok, a high-ranking Tibetan lama, passed away and the newborn baby Ngodrup was identified as his reincarnation. On Jan 12 this year, the Dalai Lama ordained the child. StarWeekend attended the enthronement ceremony in Nepal on March 3.
Kathmandu, Nepal -- A thousand monks, nuns and devotees from around the world thronged Kopan Monastery high on a hill in Kathmandu to witness a once-in-a-lifetime event: the enthronement of a three-and-a-half-year-old child believed to be the reincarnation of Mahasiddha Geshe Lama Konchok, a high-ranking Tibetan lama.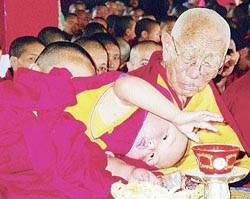 << The many moods of the little lama, Ngodrup. — Pictures by KEE HUA CHEE
Referred to as a Living Holy Relic, a Golden Child, a Rinpoche (honorific title meaning "Precious") and even a Living Buddha, Tenzin Phuntsok Rinpoche will now live out his life as a Tibetan monk, holy man, guru and demi-god to his followers.
"The late Geshe Lama was a Boddhisattva, a living divinity who had already entered Vajra Yogini Pureland but chose to return to continue spreading Buddha's dharma," explained Lillian Too, who led a 50-strong Malaysian delegation from Losang Dragpa Centre in Petaling Jaya, of which she is director.
Curiosity and apprehension filled me as I approached the child to touch him as he arrived at Kopan Monastery in a modern van and not atop an elephant as I had assumed.
Would the Living Divinity point an accusing finger at me and cry out my deep, dark secrets? Would he reveal the skeletons rattling in my cupboard?
Fortunately he did not speak English. Though accepted as a reincarnate of a lama held in the highest esteem, Tenzin Phuntsok is not immortal. By manifesting as a human child, he is also subject to the same ailments as we lesser beings.
Throughout his enthronement, his devoted guardian and attendant, Tenzin Zopa, kept wiping his nose and chatting with him.
Tibetan monks in distinctive yellow headgear blew long trumpets and conch shells to herald the child's arrival as he was carried into the Main Temple presided by a huge statue of Lama Tsong Khapa, founder of the Gelug tradition to which the 14th Dalai Lama belongs.
The boy was seated next to another reincarnate, the 14-year-old Charok Lama who also underwent a similar ceremony when he was recognised and enthroned.
I was allowed to crouch at the foot of the dais occupied by Khenrinpoche, the Abbot of Kopan Monastery. With the child lama just two metres away, I had the best possible view.
Two metres from me was the altar containing a large portrait of the Dalai Lama who was unable to attend. Lama Zopa, the highest ranking lama of Kopan, presided over the ceremony.
The front rows were filled with anointed monks, acolytes and nuns who chanted special pujas and auspicious prayers. Lama Zopa led the ceremony by reciting holy verses. The ambience of spirituality was obvious.
The enthronement was surprisingly short and simple. The child was not paraded before the adoring crowd nor was a crown placed on his head. It was over before I knew it and monks came to pay homage to the newly enthroned boy lama.
Foreheads were touched in the Tibetan manner between child and high-ranking lamas. Disciples and devotees presented the boy lama with a kata (white scarf) for his blessing.
Throughout the two-hour ceremony, Tenzin Phuntsok lapsed between a child and a fully aware reincarnate. As a child, he would fidget, fuss and fiddle with his small toys. He scratched his neck, leaned back and even yawned widely to the amusement of those nearby.
Then his face would change as he turned serious and seemed to realise the significance of what was happening around him. He looked intently at the altar, stared reverentially at Buddha statues, listened attentively to the chanting as if he knew its meaning and held a small golden statuette of Manjusri holding a sword to dispel the clouds of ignorance.
He was perfectly stoic and controlled. Not once did he cry, wail or throw a tantrum.
I was stunned at his behaviour. Those who had attended such enthronements fully expect such exemplary behaviour from someone so extremely young. However, he seldom smiled or laughed, even after the ceremony. He wasn't exactly a giggly, bouncing or bubbly baby despite his cherubic features.
"He is the clone of his predecessor, the late Geshe Lama," explained Too.
"Geshe Lama Konchok was very serious, austere, stern and even wrathful. He rarely joked like my guru Kyabje Zopa Rinpoche who has a great sense of humour.
"I was always in awe of Geshe Lama and never said anything flippant or light-hearted to him."
After lunch (vegetarian, of course), the final process begun. This time, Tenzin Phuntsok joined Lama Zopa on the elevated altar in full view of all.
Now he was even more composed as if he knew the hour had come. His face turned serene and calm. After the incantations by Lama Zopa and high lamas, Tenzin Phuntsok was finally enthroned as the reincarnation of Geshe Lama Konchok.
Everyone queued to present gifts and seek blessings from the enthroned reincarnate. This was another incredible feat by a three-and-half-year old who stayed serious and attentive while accepting offerings.
Regardless whether he was infused with the spirit of Geshe Lama Konchok or coached to do the right thing by his minders, ordinary three-year-olds can hardly accomplish such heavy duties lasting nearly two hours.
His parents, elder brother and sister sat on the floor nearby. Tenzin Phuntsok's family too received gifts of white scarves and cash by the spadeful as grateful devotees thanked them for "bringing their beloved guru back into this transient world''.
Around 4pm, religious dances were performed. At this point, the earlier proceedings took its toll on the child. He fell asleep, oblivious to the music, songs and dancers!
Giving birth to a living Buddha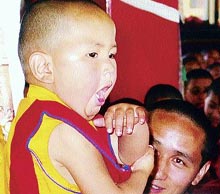 Tenzin Phuntsok Rinpoche's father, Ahpey and mother, Dolma Choezom, seemed overwhelmed initially at the fuss and attention they were receiving.
"Geshe once visited Tsum Valley where I live. All villagers came to seek blessings from him but he only chose to put his hand on my head and bless me," said Dolma
"Forty-nine days after Geshe Lama Konchok died, I dreamed the same dream of him for a week.
"After my first two children, I couldn't conceive but after the dream, I became pregnant with Ngodrup."
Even more astonishing is the fact that their marriage was arranged by Geshe Lama Konchok, as if he was planning his own return!
Said Ahpey, "I originally planned to marry another girl but Geshe Lama said I should go to another valley where I would find my true love. I met Dolma and immediately fell in love with her! It was Geshe who gave the dates for our engagement and marriage, and even offered a puja at our wedding.
"Today, when I recall these incidents, it seems like the Great Guru Geshe Lama Konchok himself knew he would be reborn into this family and so arranged his own rebirth!"
As fate would have it, Ahpey is the brother of thirty-year-old Tenzin Zopa, the attendant and disciple of the late Geshe Lama Konchok.
Said Tenzin Zopa, "I am in a complete state of bliss. To be able to serve one master in two human forms, one an old man who died aged 74 and another in the form of my own nephew!''
Proof of reincarnation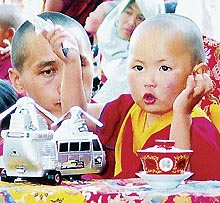 All Tibetan families consider having a reincarnated lama born into their family an immense honour.
"When Geshe Lama Konchok was dying and entering Clear Light Meditation, we begged him to be reborn quickly as we needed his help in spreading the Dharma. He gave two signs: the first syllable of the father's name 'Ah' (for 'Ahpey' my brother) and by pointing his finger to the north-east to Tsum where he would be reborn," explained Tenzin Zopa, the attendant and disciple of the late Geshe Lama Konchok.
When Zopa visited his nephew, Ngodrup (then just a year old), he wore six bead bracelets. Upon seeing the crystal beads on his uncle, the child took them, slowly discarding all except the one that had belonged to Geshe Lama Konchok. "I was amazed!" said Zopa. "My nephew wore it and wouldn't let go."
After many observations and divinations, the final test came when Ngodrup was taken to Kopan Monastery on Dec 8, last year. There, as recorded on video, the child met the late lama's old friends Kyabje Lama Zopa Rinpoche and Khenrinpoche for the first time.
"Without prompting or persuasion from us, the child grabbed a kata and presented it to Khenrinpoche. Then he touched foreheads with Lama Zopa. He had recognised his old friends!" said Tenzin Zopa.
"Then, Ngodrup was taken into a room filled with bells, observation dice, prayer books, sacred text, mala (bead bracelets), clothes, shoes and accessories. Rinpoche then asked him, 'Do you remember which things belonged to you in the past?' The child walked over and correctly selected all the items that had belonged to Geshe!
"The Dalai Lama confirmed the final tests after meeting the child on several occasions before declaring him the 'unmistaken reincarnation of the late Geshe Lama Konchok'."
Ngodrup is now known as Tenzin Phuntsok Rinpoche.