Mustang monk on camcorder mission
Times of India, April 7, 2006
KATHMANDU, Nepal -- On the remote edges of Nepal's cold desert of Mustang lives a Tibetan monk with a dream — and a camcorder. Setting out to do what no lama from Mustang has done before, Pasang Gurung has made a film in hopes of attracting Westerners — and their dollars, euros and pounds — to his picturesque, but impoverished, homeland.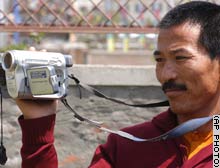 << Lama Pasang Gurung, a Tibetan monk from Mustang, films his students at a Buddhist learning center in Kathmandu.
The 42-minute movie features wide shots of Mustang's broad mountain vistas and stark deserts; close-ups of the region's ubiquitous Buddhist temples and yaks, the pack of animal of choice in the Himalayas, and footage of monks in saffron robes dancing at the annual 'Tenji' festival, dedicated to world peace.
"I want money to come to our... monastery. I want more money to come to our region, because then local people will get employment, and living standards will go up," Gurung said.
"Tourism is the only way out because our beautiful land is all we have," said the 37-year-old monk, sitting in a flowing red robe at a Tibetan education center.
Mustang, some 300 km northwest of Katmandu, is part of predominantly Hindu Nepal, but has its own ceremonial king. Its 7,000 people have strong cultural ties to neighbouring Tibet, and the kingdom's mountain slopes are dotted with Buddhist monasteries and shrines.
In fact, the only road connecting Lo-Monthang, the kingdom's capital, to the outside world is through Tibet and nearly all the visitors these days are Tibetan refugees who sneak past Chinese border guards.
Most are on their way to the northern Indian town of Dharmsala, home to the government-in-exile of the their leader, the Dalai Lama.
But, since few tourists are allowed into Tibet and crossing the border between Nepal and China is difficult at best, Gurung is hoping to convince the thousands of trekkers who come to Nepal each year that the five-day hike from the nearest Nepalese town to Mustang is worth the effort.
"I am worried tourists might think it takes too long to get there," he said. "But once you reach there, it is heavenly."
The region was closed to most outsiders until 1992, and access is limited even now to people with permits, which aren't easily available.
But Nepalese officials say that is changing. "Mustang is one of our most prominent tourist destinations, and we are taking steps to deregulate controls and open it up to tourists," said Aditya Baral, spokesman for the government's Nepal Tourism Board.