Monks revere the work of Sir Edmund Hillary
By KERRY WILLIAMSON - Waikato Times | Tuesday, 29 January 2008
Tengboche, Nepal -- At Tengboche Monastery, the spiritual home of the Sherpa, monks have been praying for a very important man for the past fortnight.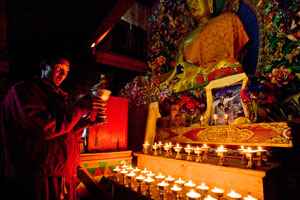 << IAIN McGREGOR/Waikato Times
MONASTERY MEMORIAL: A monk at Tengboche Monastery lights a butter lamp in memory of Sir Edmund Hillary.
Every day just before 3pm, the blowing of a conch shell sounds out over Tengboche and the senior monks head into the ornate prayer room in the midst of the sacred monastery.
The sound echoes off the surrounding mountains, calling them to prayer.
Dressed in their deep red robes, they enter the cavernous room through a heavy curtain and take their seats on hard benches.
After receiving tea from a young student monk, they begin chanting mantras from ancient Buddhist texts in time to the beating of a small drum.
They have been doing this for centuries, once in the morning, once in the afternoon, every day.
But for the past two weeks it has been done slightly differently.
For the past two weeks, they have prayed for Sir Edmund Hillary, lighting butter lamps beneath a photograph of him and Tenzing Norgay.
The photograph, draped in silk khartas, is placed just to the right of one of the most sacred things in Buddhism a two-storey high Buddha that gazes down on the prayer room, and at all things.
"He is very important," says Nima Sherpa, who leads the senior monks in prayer and is in charge of the monastery for one year.
"We are sad, very sad. He is a very important man, responsible for rebuilding our monastery, for building the schools, the hospitals and everything.
"We pray that the next life will be very good, and we pray for good luck in the next life."
Tengboche Monastery is the spiritual home of the Sherpa. Tucked on a hill high in the Himalayas, with a view of Everest, it is a three-day trek in on a rugged, dusty and at times unimaginably steep trail.
It is home to about 40 monks, from students who live in a hostel, right through to those who have lived here all their lives, turning small mud huts into comfortable houses.
The monks spend their days studying scripts and praying. During breaks they play football on an uneven, sloped field bereft of grass. It is a place of religion, and little else.
In the winter it is covered in a thin blanket of snow. Temperatures plummet to well below freezing and the monks rely on the burning of yak dung for heat.
The monastery's golden dome can be seen from the top of Everest Hillary and Tenzing looked down at it as they prepared to make their summit push 53 years ago.
But if not for the New Zealander, it would likely not be here. In February 1989, an electrical fire destroyed it, leaving little more than a pile of charred wood.
When word came to Sir Ed, he flew with his wife June to Kathmandu, and then on to Tengboche to witness the destruction himself.
As he stood there looking, the Sherpa people told him that the monastery must rise again. Sir Ed took it to heart, and began a massive fundraising effort, travelling the world asking for support.
Money poured in from Japan, England, North America and France. Switzerland donated the copper roof. More than $500,000 dollars was raised, and the monastery slowly emerged from its ashes.
Most Everest expeditions stop at Tengboche on the way to base camp, the climbers and guides appearing before the head monk, or Rimpoche, to be blessed.
Sir Ed visited here often Nima Sherpa laughs that it would be nice to have him incarnated as a Tengboche monk.
A sign still hangs in a courtyard that acts as the entrance to the prayer room. It reads: "We felt very sorrow on the immediate expired of Sir Edmund Hillary so we all monks are in deep ceremony special puja".
The grammar is poor but the meaning is clear. Nima Sherpa says that Sir Ed will long be remembered here.