Excavation findings: Carvings reveal Kirana Hillís Buddhist heritage
By Sonia Malik, The Express Tribune, August 28th, 2011
LAHORE, Pakistan -- The Archaeology Department will survey and excavate sites in Chiniot in collaboration with Lok Baithak next month. The Lok Baithak has been working on remains in Chiniot since 2005.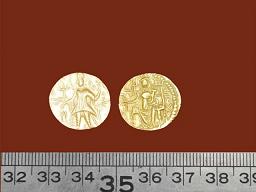 << Gold coin discovered depicts a goddess feeding a child.
Rock carvings and relics were discovered at Kirana Hills in Northwest Chiniot recently. The region is popularly known as Punj Peer. Archaeology Department officials said that after examining the base of the rock platform and the cleft in part of the hill, they were of the opinion that these were the walls of a stupa.
The site and most of the relics were discovered by, Lok Baithak. Kirana stone, terracotta bricks, pottery, animal bones and human remains have so far been found over nine acres of land.
Umar Daraz, the Lok Baithak convener, said that a gold coin was discovered by the group from one of the eight mounds. He refused to specify the location but said the site had to undergo further excavation.
Markings on the coin, which also depicts a goddess feeding a child, have aided archaeologists in determining that the coin is from the Kushana period.
It has been compared with other coins of the period on display at the Lahore and Taxilla Museums, said Afzal Khan, the Deputy Director of Archaeology Department. He said the coin will probably go on display at either of the museums at Faisalabad and Kallar Kahar.
No photographs of the rock carvings Kirana Hills, discovered in 1995, have been published so far, according to Khan.
Fine, intricate carvings showing men on horses and in combat are speculated date back to the time when Alexander the Great invaded the region, he said.
The latest carvings, he said, are as recent as 300 years ago. Three overlapping circles abundantly carved on Kirana indicate that inhabitants of these hills were Buddhists, Khan said.
Other patterns observed are of hands, chess board, ships and flowers.
Some historians are of the view that the site may hold the lost OJAN or OJAIAN, a Buddhist university contemporary with the Julian University in Taxilla – the only two Buddhist universities from that time, Khan said.