China Invests to Protect Oldest Cliff-carved Buddha
Xinhua, May 19, 2012
Taiyuan, China -- A multi-million-yuan project that helps to shore up the country's oldest cliff-carved Buddha statue is to kick off before the end of June in north China's Shanxi Province.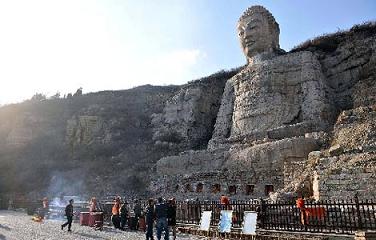 << Visitors look at the Mengshan Buddha statue in Taiyuan, North China's Shanxi province in this March 26, 2011 file photo. [Photo:Xinhua]
With a 74 million yuan (11.7 million U.S. dollars) investment approved by the Ministry of Land Resources, the work will focus on consolidating mines around the Mengshan Buddha, which was once in danger of collapsing, according to Taiyuan City's land resources bureau.
Qiao Qinghai, a geological environment official with the city's land resources bureau, said the project will increase greenery and eliminate the hidden geological hazards in the Mengshan scenic area, which will also improve living conditions for local residents and help the development of tourism.
The 1,461-year-old Buddha statue was carved on a cliff face on Mengshan Mountain in the year 551, during China's Northern and Southern Dynasties. It is believed to be 162 years older than the world's largest sitting stone sculpture of the Buddha in Leshan, Sichuan Province.
The Mengshan Buddha, 63 meters tall, was discovered in the 1980s with parts of it lost or buried in silt and rubbles. Continuous mining in the area led to geological disasters including landslides, ground collapses and fissures, leaving the giant statue in danger of collapse. It was opened to tourists in 2008 after repair.
A total of 211 million yuan has been invested to improve the area's geology since 2008.
The Mengshan Buddha statue is more than 20 km southwest to Taiyuan, the provincial capital.