Moghulmari houses oldest Buddhist vihara in Bengal
by Jhimli Mukherjee Pandey & Sujay Khanra, TNN Jan 1, 2014
KOLKATA/DANTAN, India -- It's official now. Moghulmari has the oldest archaeological site in Bengal dating back to 6th century AD.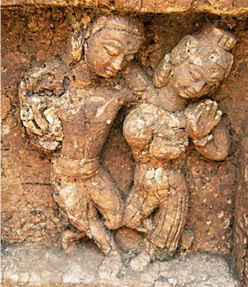 The state archaeology department that started re-excavating the site confirmed that it houses the oldest Buddhist vihara (monastery) in Bengal. Located a few kilometers from Dantan in West Midnapore, the Moghulmari site will force historians to rewrite the history of Buddhist civilization in Bengal.
The recent discovery of a coin and a locket by archaeologists at the excavation site has put the date of the vihara back to the time of Maharaja Samachar Devo, an independent ruler of Bengal during the time of Kumar Gupta of the Gupta dynasty.
The coins were brought to the city for verification and the state archaeology department confirmed on Tuesday that the engravings on the coin have been deciphered and dates back to the sixth century. "The discovery of the coin proves that the monastery proliferated during the 6th century AD, making it the oldest Buddhist vihara of Bengal," confirmed Amal Roy, deputy director of the department. Letters on the coin belong to the Brahmi script, he added.
Interestingly, the story of the Moghulmari site has found a special mention in the history textbook of Class VI of Madhyamik Board and will be introduced in schools from the coming academic session. Atanu Pradhan, spokesperson of Moghulmari villagers, who had helped excavators since 2004, said that the school education department was requested to include this chapter.
Calcutta University started excavating the site in 2004 and did it in phases till 2012 to arrive at the conclusion that a Buddhist vihara existed beneath the massive mound of Moghulmari. However, due to lack of funds and other infrastructural shortcomings, the varsity could not continue excavating and the archaeology department took it over on November 20. The coin and the locket are the two big discoveries that have finally, put a stamp to the ethnicity of the vihara, gradually emerging from the mound.
It is a massive vihara, older and far bigger than the Raktamrittika vihara of Murshidabad, which was so long considered to be the oldest Buddhist shrine in Bengal.
The structure is of a 'tri-ratha' type typical of Buddhist monastic architecture complete with innumerable cells for monks. "Besides royal patronage, the monastery was patronized by merchants, who used the Dantan port", said Rajat Sanyal, an archaeologist of CU.
"The monastery was indeed built in the Vajrayana phase of Buddhist propagation. During this time, deity worship was slowly making inroads into Buddhism," said archaeologist Durga Basu.