New dam threatens 2,000-year-old Buddhist engravings in Pakistan
By EIICHI MIYASHIRO, Asahi Shimbun, October 17, 2014
Chilas, Pakistan -- As the region of Chilas in northern Pakistan shakes under construction of a dam and renovation of a highway, centuries-old engravings from the early days of Buddhism carved on boulders may be lost forever, according to local archaeologists.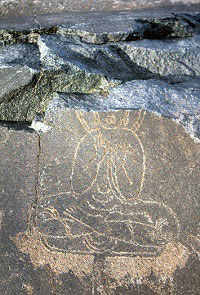 << Destroyed Buddhist petroglyphs from Chilas, Pakistan, in September 2014 (Provided by Hazara University)
Much of the precious petroglyphs in the area will likely sink beneath the waters of the Diamer-Bhasha Dam, which is being constructed to ease local electricity shortages.
The investigation was conducted by archaeologists of Hazara University, an institution in Dhodial, northern Pakistan. The announcement was made by the Japanese Center for South Asian Cultural Heritage, a nonprofit organization based in Tokyo, supporting the university's research efforts.
The rock engravings are precious artifacts that trace the spread of Buddhism in the region, dating between the first century B.C. and the 10th century A.D.
There are approximately 30,000 examples of these ancient artworks in the areas that are threatened by the waters of the dam and local construction. These petroglyphs depict religious symbols such as the Buddha or a pagoda and range from drawings the size of a palm to a series of graphics measuring almost 10 meters long.
Many of the photographs released by the university show the engraved rocks severely damaged or their surfaces cracked with pieces falling off.
Researchers speculate the construction work on the dam along with the widening of the Karakoram Highway to be the main culprits behind the destruction.