SPA to help CRDA build Buddhist museum
by T. Appala Naidu, The Hindu, June 7, 2015
Andhra Pradesh, India -- Exploring the illustrious history of Satavahana period to trace roots of Buddhism in Andhra Pradesh, the School of Planning and Architecture, Vijayawada, (SPA-V) is identifying historical important architectural remains, sculptors and relics of Buddhism to preserve them in the proposed state museum in the new capital.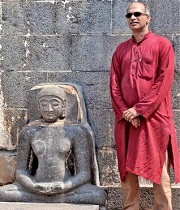 The Capital Region Development Authority (CRDA) has sought technical support from the SPA to realise its dream of having the state-of-the-art museum in the new capital, promoting Buddhist tourism.
"Identification and documentation of relics, artefacts and architectural remains of Buddhism, which are now in a state of utter neglect across the State from Visakhapatnam to Nellore is in a crucial stage. It is sad to note that many Buddhist sites in the Krishna district have not been explored till date," SPA-V Director Professor N. Sridharan told The Hindu .
Professor N. Sridharan, one of the architects of Bodh Gaya-Nalanda-Rajgir (BNR) circuit in Bihar in the early 1990s, has listed out important Buddhistrelics at Ghantasala, Hamsaladeevi and parts of the Diviseema region to shift them to the new museum.
Major challenge
"We have glorious literature and structural beauties in Andhra Pradesh to promote Buddhist tourism. The major challenge lies before us to how best we can package and promote them," said Mr. N. Sridharan.
The SPA-V was also striving to revive several folklore dances and art forms of Andhra Pradesh by sparing a separate gallery in the museum as many of them have now gone into oblivion.
"Given the scope for generation of huge employment opportunities and revenue through promotion of Buddhist tourism, the best pack of Buddhist tourism can be seen in the new capital," said Professor N. Sridharan.
It is learnt that several bodies such as the National Park Service of the United States and other Asian countries were keen to support Buddhist tourism projects through funding and other technical arenas.
SPA-V Director N. Sridharan, one of the architects of Bodh Gaya-Nalanda-Rajgir circuit in Bihar in the early 1990s, has listed out important Buddhist relics at Ghantasala, Hamsaladeevi and parts of the Diviseema region to shift them to the new museum