Adurru Buddhist site lies ignored
by B.V.S. Bhaskar, The Hindu, December 16, 2015
Adurru, India -- As Amaravati steals the centrestage and gets top priority as Andhra Pradesh capital, lesser-known Buddhist sites in Andhra Pradesh seem to be getting the Nelson's eye. There is hardly any infrastructure or basic amenities in two important places in East Godavari where Buddhism had its roots.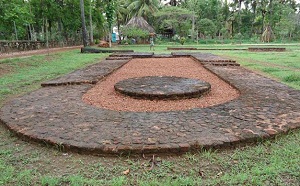 << Adurru, a 2,400-year old Buddhist site, is located on the western bank of the Vainetaya in East Godavari district.— Photo: Special Arrangement
Adurru in Mamidikudurumandal was declared 'Mahakshetram' and Kummarilova and A. Kothapalli villages in Thondangi and Tuni mandals attained prominence after archaeologists discovered a Buddhist mahastupa and other votive stupa foundations.
World-famous stupa
Adurru (or locally Dubaraju Dibba) is a 2,400-year old Buddhist site located on the western bank of the Vainetaya, a tributary of river Godavari, which is around 9.5 km from the Bay of Bengal in Mamidikuduru mandal of East Godavari district.
The site was excavated by the Archaeological Survey of India (ASI) in 1923 and declared as a protected monument in 1955. Among the three most popular Buddhist stupas in the world, the first one was constructed in Adurru, the second in Ranchi and last one in Sarnath.
According to historical evidence the ASI found, the foundation stone for Adurru was laid by Sanghamithra, a Buddhist nun and daughter of King Ashoka, en route to Sri Lanka.
As this Buddhist centre is home to the remains of stupas, several upa-stupas, chaityas and viharas, this is considered as 'Mahakshetram' by Buddhist monks and followers even today. In 1953, the ASI conducted excavations that brought to light the remains of stupas, chaityas and viharas. The most beautiful and the most famous one is the mahastupa, built like a giant wheel with a platform with a diameter of 17 feet. Located around it are vedika (drum) and ayaka platforms that mark the cardinal directions. In 1955, the ASI declared this a protected monument.
The excavations also brought to light artefacts such as jars, troughs, dishes and bowls. On the front side, (on the east) are two upa-stupas with the same wheel-based structure.
There are also round and square structures on the west side of the main stupam — all systematically connected with each other from all the sides.
No government support
With the State government showing no interest in the Adurru monument, a non-government organisation called Buddha Vihar Trust, Adurru, formed by a group of retired employees, currently takes care of it.
"We have been running the trust and taking care of the monument for the last 30 years. There are no infrastructure facilities, basic amenities and even road connectivity to this place," said S.S.R. Bhupathi, member-secretary of the trust.