Doors open to unseen Buddhist cave temple
By Li Qian, Shanghai Daily, March 11, 2016
Henan, China -- AFTER 63 long years, the Longmen Grottoes in central China's Henan Province allowed visitors to enter a protected cave temple to see a complete set of 29 arhat statues created during the rule of a Buddhist empress.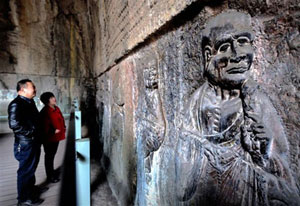 << Visitors admire work at the 1,300-year-old Kanjing Temple which is now open to the public. — Xinhua
The Kanjing Temple, a royal cave temple built about 1,300 years ago, is the largest cave in the east mountain of the grottoes. It is 9 meters high, 10m deep and 10.5m wide.
The life-sized statues are among the finest and most well-preserved arhat sculptures of the Tang Dynasty (618-907). The cavern temple was previously off-limit to tourists as it was undergoing protection and research as well as to preserve the artifacts, said Lu Wei, a director with Longmen Grottoes Research Academy. Previously, visitors could only admire them from behind a fence.
The arhats, who are enlightened Buddhist saints extricated from mundane suffering, are seen in various positions from meditation to debating, displaying facial expressions including anger, content and devotion.
"The statues disproved stereotypes of Chinese arhat carving. They have vivid looks and give off a highly realist air," Lu told Xinhua News Agency.
The 29 statues were cleaned, repaired, fastened, and protected by a wall of reinforced glass. The cave is equipped with infrared cameras, thermometer and hygrometer and other devices that will monitor water, temperature and humidity, thepaper.cn reported.
In case of extreme weather, measures will be taken to restrict the number of visitors. The authorities also chose to keep it low profile, meaning very few made inside on the first day of its opening, the website reported.
The cave temple dates back to the era of Wu Zetian (624-705), China's only empress who was also a Buddhist, a period when Buddhism and Buddha carving flourished, according to Lu.
To court the devout empress, her followers erected a number of Buddhist sculptures at Longmen Grottoes. Kanjing Temple was also believed to be built by the royal family and monks with royal backgrounds, due to its strong royal elements.
Longmen Grottoes, a world cultural heritage site near Luoyang City, has more than 2,300 grottoes with 110,000 Buddhist figures and images, over 80 dagobas and 2,800 inscribed tablets, created between the Northern Wei Dynasty (386-534) and Song Dynasty (960-1279).