Remnants of Buddhist era settlement found in Sherwan Khurd
By Muhammad Sadaqat, The Express Tribune, March 14, 2016
Abbottabad, Pakistan -- Villagers of Sherwan Khurd, situated some 48 kilometres north-east of Abbottabad city, have discovered an ancient settlement dating back to the Buddhist era.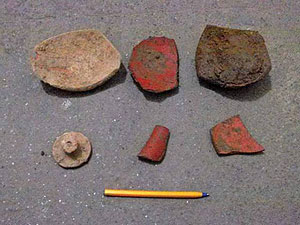 << Artefacts discovered from the ancient site in Sherwan Khurd village. PHOTO: EXPRESS
ABBOTABAD:
However, locals may have caused damage to the historic site through a series of construction.
While speaking to The Express Tribune on Sunday, Qayyum Khan, a villager, said locals planned to construct the damaged minaret of a mosque on the site.
Pakistan scientists 'find 1.1 million year-old stegodon tusk'
He added, "When the labourers started digging the site, they found artefacts buried 14 feet below the ground."
They informed Abbottabad DC Ammara Khattak about the discovery. "The DC approached the archaeological department officials in Hazara University and asked them to visit the site,"
Qayyum said.
Unravelling the past
When contacted, Hazara University Archaeological Department Head Dr Shakirullah Khan said, "I visited the site and found ashy grey soil, some irregular stone slabs and mixed shreds of clay pots used during late Hindu Shahi period between seven to 11 CE."
According to Shakirullah, the remains found from the site suggest the area was once inhabited by a settlement of the Hindu Shahi era.
"I believe the settlement was spread over an area of roughly 30 kanals," he added.
Relics of bygone era: Revival of Swat Museum draws back tourists
"Although locals have built houses on 80% to 90% of the site, around 10% to 15% of the area could be used for proper archaeological investigation."
Shakirullah added, "Sherwan was historically called James Abbott's peak and some more Buddhist sites could be discovered in the area."
Need for preservation
"I have asked the provincial archaeological department and Abbottabad DC to take immediate steps for proper investigation, protection and preservation of this site," he said. "It is susceptible to harm like other important sites that have yet to be declared protected."