Xuan Zang stayed in Vijayawada to study Buddhist scriptures
by G. Venkataramana Rao, The Hindu, November 3, 2016
Chroniclers of history have documented ancient inscriptions in the region.

Andhra Pradesh, India -- Chinese Buddhist pilgrim and scholar Xuan Zang stayed a couple of years in Bezawada (the old name of Vijayawada) to copy and study the Abhidhammapitakam, the last of the three pitakas (Pali for baskets) constituting the Pali canon, the scriptures of Theravada Buddhism.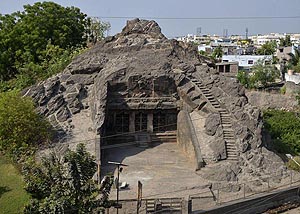 << The Nataraja cave in Moghalrajpuram in Vijayawada is the largest cave left of Poorvasaila monastery. Photo: V. Raju
The writings of Xuan Zang (also spelled Hsuan Tsang or Hiuen Tsang) about his travels in India are detailed accounts of the life of the people in the 7th century. The Chinese government has used his work to establish that the relationship between India and China is 1,400 years old.
Xuan Zang travelled to Andhradesa to visit the Viharas at Amaravathi and Nagarjunakonda around 640 C.E. It is popularly believed that he stayed at Amaravathi for a couple of years to study th Abhidhammapitakam.
Written records
Gordon Mackenzie, the British chronicler and the Collector of Kistna (which included both the modern Krishna and Guntur districts), recorded in his manual written in 1883 that Xuan Zang in his writing "spoke about the kingdom of Anta-lo (Andhra) with its capital Ping-ki-lo (Vengi) and in Dhanakacheka (Dharani Kota?)".
Mackenzie recorded that Xuan Zang described "two very Buddhist monasteries, the Eastern and Western". Mackenzie used a question mark next to Dharani Kota because British historian Robert Sewell "thought the locality of these monasteries could be fixed at Bezawada" and not at Amaravathi, the modern name for Dharani Kota.
Sewell (1845–1925), who worked in the civil service of the Madras Presidency Record Office, was tasked with the responsibility of documenting ancient inscriptions and remains in the region.
He undertook archaeological work, including at the Buddhist stupa at Amaravathi, which had already been largely destroyed prior to his arrival.
Language guides
Sewell was guided by various native speakers of the Kannada, Malayalam, Sanskrit, Tamil and Telugu languages spoken there. Some of these aides, such as S. Krishnaswami Aiyangar, went on to publish research of their own.
Converted to temples
V.V. Krishna Sastry, former director of the united Andhra Pradesh Archaeology department, who hails from Krishna district and is an authority on Buddhist sites in Andhra Pradesh, had gone on record that the remnants of Poorasaila (eastern hill) and Aparasaila (western hill) monasteries mentioned by Xuan Zang were actually the Moghalrajpuram caves and the Akkannna Madanna caves located in the heart of Vijayawada.
These Buddhist Viharas were converted into Hindu Cave temples during the reign of the Vishnukundins.