400-year-old Buddhist monastery gets over million dollar government grant
By Peter Todd Alex, New Kerala, Sept 14, 2005
Tawang, Arunachal Pradesh (India) -- The 400-year-old Galden Namgyel Lhatse Buddhist monastery in Arunachal Pradesh will soon get a facelift with the state government allocating a 1.16 million dollar grant for its restoration.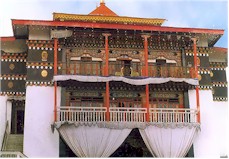 << The Galden Namgyel Lhatse Buddhist monastery
The monastery is believed to be amongst the oldest in the world, and till now, has been surviving on generous grants from locals and philanthropists. Part of the money given has been used to build a school within its precincts.
"Earlier, we did not have any school here. The school only began in 1997. There was no facility and infrastructure for education, the Centre has given us a lot of help and now lot of Lamas started coming here. Study is free here besides the food as good," says T. Gonfa, the head of the monastery's school.
Monks and Lamas were often forced to double up as plumbers and masons to repair dilapidating sections of the ancient structure. It affected their charity work, ranging from tending to the sick to walking miles into jungles to teach tribal children.
Most of the grant has been placed in a fixed deposit bank account, and the interest generated, is used for the monastry's upkeep.
At 3,400 metres (approx. 10,000 feet) above sea-level, this magnificent structure distinct for its enormous yellow roof and white walls, has elaborately painted wooden windows and is dotted by prayer flags fluttering in the chilly winds.
Its famous attraction, however, is the three-storeyed Dukhang or assembly hall, which has 26-feet high gilded image of Buddha.
The monastery's library is stacked with some of the rarest manuscripts, images and 'Tankas' (traditional paintings) is talked about world over by historians and scholars. It being able to conserve the prize collections has been one of the biggest high points for the monks.
"We have been really benefited. Since then, we were able to establish the community kitchen. The Government actually gave us a corpus fund for our expenses so that the Lamas did not have any problems. Now they could get more time to study and meditate," says Reverend Tengye Rinpoche, the head of the monastery.
According to Buddhist legend, Mera Lama saw the site of the Tawang Monastery in a dream, which had a celestial white horse leading him to this remote landscape.
It is believed that the monastery, which took 40 years to complete, was built solely by volunteers and material donated by the villagers.