Rains affect major Buddhist shrine at Sanchi
Indo-Asian News Service, September 16, 2005
Bhopal, India -- Heavy rains in Madhya Pradesh have affected the Sanchi stupa, one of the most sacred and oldest Buddhist shrines across the world and a Unesco world heritage site.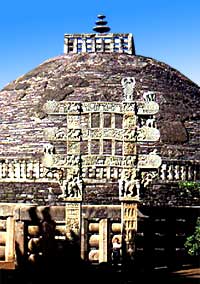 << The great Sanchi stupa
According to sources in the Archaeological Survey of India (ASI), water is leaking through the roof into the 16-metre high and 37-metre in diameter stupa at Sanchi, 46 km north of state capital Bhopal.
"The inner layer of the roof of the stupa has become mossy. The ground below has also become muddy," said sources in the ASI.
Built by emperor Ashoka in the third century BC, the stupa is a large hemispherical dome having a central chamber in which relics of Lord Buddha are placed.
The other important monuments at Sanchi include one of the seven existing Ashoka Pillars with four lions sitting back to back - the national emblem of India.
Thousands of Buddhist pilgrims, including foreigners, every year visit Sanchi.
The sources said that the stupa was earlier chemically treated to protect it from sun and rain. "But it has not been chemically treated for the last six years," sources said.
KK Mohammad, a senior official of the ASI who is based in Bhopal, said that leakage of water through the roof of the stupa was a routine affair and nothing serious.
"I have got the matter checked by officials of my department posted at Sanchi. There is nothing serious in it. It happens whenever it rains heavily," he told IANS.
Mohammad said that no holes or cracks had developed on the roof, as was being apprehended. "But we cannot do anything to stop the leakage of water till the rainy season is over," he said.
Sources said that water had never leaked through the roof of the stupa, despite heavy rains earlier.
Apart from the Buddha's relics, Sanchi also represents an aspect of the life of king Ashoka, who had married Devi, the daughter of a nobleman from the area of Sanchi, and later built the stupa and also placed one of his pillars and the lion symbol there.
Prince Mahendra, Ashoka's son, visited Sanchi with his mother before starting his mission to take Buddhism to Sri Lanka.