Hint of urban appeal in Buddhist finds
by M.R. VENKATESH, telegraph India, Feb 19, 2006
Chennai, India -- Two statues of the Buddha have been dug up near the Tamil Nadu capital, opening up exciting possibilities for archaeologists who say they could be contributions by a foreign king and also speaks of the religion's urban character.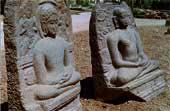 << The excavated Buddha statues. Picture by Selvam
The statues, about two-and-a-half-foot high, were discovered in Kolapakkam, a village 20 km from Chennai on the way to Kancheepuram, one of the rural areas along with Nagapattinam where Buddhism's influence dates back to nearly 2,000 years.
"We retrieved two granite statues of the Buddha last week which could be dated between the 9th and 10th century AD," T. Satyamurthy, superintending archaeologist of the Archaeological Survey of India, Chennai circle, told The Telegraph.
One of the statues has the dharma chakra inscribed on either side. The other has three umbrellas over its head, in a striking resemblance to Buddhist sculptures in Southeast Asian countries, he added.
"These are similar to the type of Buddhas found in Chola paintings in the Big (Brihadeeshwarar) Temple in Thanjavur," Satyamurthy added.
It was an inscription in the nearby Agastheeswarar temple that led to the excavations, particularly after heavy rains in December-January partly eroded the village topsoil and bared a portion of the statues.
The inscription speaks of some contributions by a King Srivijaya, who was probably a "Buddhist king from the island of Sumatra", Satyamurthy said. "This is what we can infer from the inscription in the temple."
King Srivijaya must have given these statues, the archaeologist explained, adding that the historical significance of the findings is they seem to be contributions "by a foreign king to a Hindu temple".
Satyamurthy said the village temple is dedicated to Shiva. The villagers believe the sage Agasthya worshipped the Shiva linga here and so the deity is known as Agastheeswarar.
As Agasthya had taken Hinduism to Sumatra, the donation by a king there to a temple dedicated to Agastheeswarar looks all the more likely, Satyamurthy said.
The archaeologist said the discovery of the statues near Chennai speaks of "Buddhist activity" close to the metropolis and testifies to the urban character of the religion.
The ASI had at first thought of handing over the statues to the Madras Museum, but village elders in Kolapakkam said they wanted to put up a shed over the sculptures and turn it into a makeshift place of worship.
"We are allowing them to do that," Satyamurthy said.
"We want to build a small shrine for the twin Buddhas," said Ramu, a carpenter, near whose house the statues were retrieved.
Nearly 40 per cent of the villagers in Kolapakkam are Dalits, among whom Buddhist symbols have an appeal.