Buddha 'saffronised', has to smile
by Niranjan Takle, CNN-IBN, March 18, 2007
Lonavla, India -- Lonavla in Maharashtra is home to many of the 1000-plus rock cut caves that dot western India . So much so, that the original name Lenauli translated to "the place of many caves".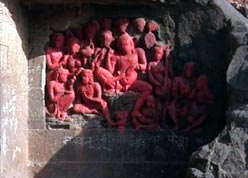 << SAFFRON TAKEOVER: Budhhist relics in Maharashtra are being subjected to vandalism.
However, these Budhhist relics are being subjected to vandalism, that too under the nose of the Archaeological Survey of India.
Karla caves, 11 km off Lonavla, house a monastery dating back to 2nd century BC.
The monastery was once home to two 15-meter grand pillars. Now only one of these masterpieces exists and the remaining space is occupied by a temple dedicated to Goddess Ekaveera.
Lord Buddha is often the silent observer when sacrifices to the goddess take place.
The scenario is not much different at the Budhhist caves in Thane where craftsmen worked for years to carve the Buddha statue out of Sahyadri rocks.
Centuries passed, and then came a newer generation of craftsmen, giving a new colour to these caves.
Khandeshwari Devi, a little known Hindu deity, has nearly displaced the Buddha and changed his complexion to saffron
Lord Ganesha is also party to this divine encroachment and in the Buddhist caves at Nasik, it is Lord Hanuman.
The news shades of divinity find no takers among Buddhist scholars.
"Everything in this country is saffornised. Three-fourths of the caves in India are Budhhist caves and they are saffronising and brahminising them," says Prof of Buddhist Studies, Arun Kamble.
Buddha theoretically enjoys the protection of the ASI and the patronage of the Tourism Department of the Maharashtra Government. But that does not seem to have ensured his place in this rat race of religions.
In this Incredible India, Budhha has no choice but to smile.