Ayutthaya under threat of delisting by Unesco
by APINYA WIPATAYOTIN, Bangkok Post, Jan 16, 2008
Ayutthaya, Thailand -- The United Nations Educational, Scientific and Cultural Organisation (Unesco) will soon send experts to evaluate the status of the world heritage sites in Thailand.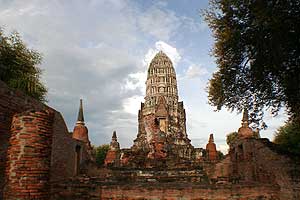 Speculation has it that the historic city of Ayutthaya might be delisted as a world heritage site by Unesco.
Untidiness around the historical site and poor city planning has triggered concern among relevant agencies that the site would no longer meet the standards set for it to retain its status.
Tharapong Sirsuchart, Unesco's secretary for the International Council on Monuments and Sites (Icomos) in Thailand, played down the concern, saying that the overall condition of the site was still good.
But, he said, the Unesco experts might issue a "warning" to the government over poor management of the heritage site's surrounding area.
The date of the experts' visit has yet to be confirmed but they are expected in the next few months because the Icomos must put together a report on the condition of the sites for submission to the Unesco's world heritage conference for consideration in July. The conference will be held in Quebec, Canada.
Anek Sihamat, director of the Fine Arts Department's third region office, who is in charge of the Ayutthaya Historic City, said many measures were implemented to improve the site's surrounding area and to preserve the ancient sites.
"The site will not be delisted," he assured. Fine arts official also urged the local people to help look after it.
"If Ayutthaya people want to continue to have a world heritage site in their home province, they should help protect it and maintain its outstanding characteristics," Mr Anek said without elaborating.
An official from the Office of Natural Resources and Environmental Policy and Planning (Onep), which oversees the management of world heritage sites in the country, has expressed concern over lack of cooperation between the state agency and local administration organisations.
The official, who declined to be named, cited as an example a construction project of the local administration organisation which encroaches on the historical park.
"In this case, the local administrators completely ignored the Fine Arts Department's advice," she said.She does not believe that it would lose the world heritage status.
"At the most, the site might be put on the watch-list, which means the owner country has to come up with urgent and effective measures to protect it," said the official.