Ryukoku University team to explore rare Buddhist ruins in Afghanistan
Kyoto, Japan -- Ryukoku University, a Buddhist school in Kyoto, and Afghanistan's National Institute of Archaeology have signed an accord to survey and excavate newly found Buddhist relics lying west of the famed Bamiyan ruins that were destroyed by the Taliban.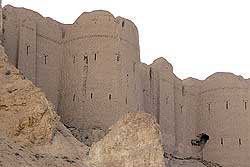 << The Chehel Burj fortress, 126 km west of Bamiyan, Afghanistan.
The ruins are in Keligan, 120 km west of Bamiyan, and in Chehel Burj, 6 km west of Keligan.
Photographer Atsushi Naka, a Ryukoku University graduate, came upon them in June 2003 based on a tip from locals.
Bamiyan had till then been regarded as the westernmost point in Afghanistan where Buddhism spread.
The two large Buddhist statues carved into the mountainside in Bamiyan, one 55 meters tall and the other 38 meters, were destroyed by the Taliban in 2001.
The excavation is expected to shed new light on the transmission of Buddhism, including a possible link with Buddhist relics in Turkmenistan.
Under the agreement, Ryukoku University will send an excavation team, including four scholars, in September as a first step. The team will stay at the sites for about a month.
Excavation is impossible in winter because of the extreme cold, according to Ryukoku public relations official Mutsuhito Kumagai.
The Keligan ruins include a temple 58 meters long and 47 meters wide and Chehel Burj is a square fortress, each side 100 meters long.
Both sites are about 2,400 meters above sea level.
Chehel Burj literally means 40 towers.
It is expected to take five to 10 years to fully excavate the sites, according to Kumagai.
The team will be headed by Takashi Irisawa, a professor at the university specializing in the transformation of Buddhism in various Asian cultures. The team also includes professor emeritus Meiji Yamada, who specializes in the transmission of the religion especially along the Silk Road.
Irisawa said he hopes through the excavation to learn about the people who built the temple and fortress, the links the ruins may have with other Buddhist cultural zones and what kind of role the religion played in the desert area.
In 2002, photographer Naka visited Bamiyan alone. At that time, local people told him of the Buddhist ruins to the west.
In June 2003, he traveled by car for two days from Bamiyan and reached Keligan and later Chehel Burj and took photos.
In October and November 2003, Naka visited the sites again, this time with Yamada, who confirmed the ruins are Buddhist.
Under the agreement between Ryukoku University and Afghanistan's National Institute of Archaeology, the school will cover the expenses for the fieldwork while the institute will provide logistic support where feasible.
They also agreed to promote academic exchanges.