Oldest Buddhist monument gets a makeover in Nepal
by Utpal Parashar, Hindustan Times, June 14, 2010
Kathmandu, Nepal -- The dwelling of Swayambhunath Stupa (Self-Existent Lord), a world heritage site around which Kathmandu Valley emerged, got a makeover last month — the first in 90 years and 15th in nearly 1,500 years. And it wasn't an easy task.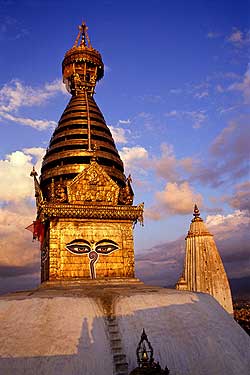 Seventy skilled artisans from Nepal worked tirelessly for two years to renovate the country's most ancient Buddhist monument. Since none involved with the previous restoration is alive, it was an arduous task that required painstaking attention to detail. But large volumes of documented work of previous renovations helped immensely.
"Unlike creating a new monument, we didn't take creative licence. Our aim was to restore Swayambhunath to its original glory," said Tsering Palmo Gellek, the project director.
Like solving a big jigsaw puzzle — over 30,000 pieces were removed, repaired, cleaned and again put back into place using over 100,000 nails. All metal plates got a fresh coat of gold consuming 20 kg of the yellow metal in one of the largest gold restoration works anywhere.
"Re-gilding was done in traditional Nepali style. Gold mixed with mercury is put over copper plates and heat applied to burn off the mercury and leaving a layer of gold," said Padma Dorje Maitland, associate director of the project.
Every ounce of gold was measured and record and the copper plates covered with gold polished with agate stone for hours at a stretch to give them the shine. To aid future renovation projects, a detailed documentation system was developed to keep track of work and over 40,000 images of the stupa before, during and after the renovation was taken.
The project sponsored by the Tibetan Nyingma Meditation Centre at California, USA, started in June 2008 and got over on Buddha Jayanti last month.
While centuries-old practices and rituals were followed during the renovation, one important aspect associated with previous makeovers of the stupa was missing this time around.
"In the past permission for renovation was given by the king, but since monarchy as abolished in Nepal a month before the project started, the practice was not followed this time," said Alexander von Rospatt, Professor for Buddhist Studies at University of California.