Buddhist structures found in Simhachalam hill-range
by Ramesh Susarla, The Hindu, July 11, 2010
The finding is made during renovation of a temple
Visakhapatnam, India -- Buddhist settlements are found on almost all hill-tops but little known fact that there were Buddhist settlements on Simhachalam hill-range has come to light during a recent renovation and restoration works taken up by the Endowments Department.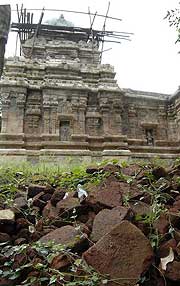 << Bricks from Buddhist monastry used on top of Chalukyan period Madhava Swamy temple at Madhavadhara in Visakhapatnam. Photo: C. V. Subrahmanyam
Sand blasting and restoration works on Chalukyan period Madhava Swamy Temple at Madhavadhara was taken up recently, which not only exposed the intrinsic fine sculpting legacy of 14th Century A.D., but also some other interesting facts about the construction of the original temple.
Assistant Director in Department of Archaeology K. Chitti Babu told The Hindu that the architecture of the Chalukyan period had come out transparently after the lime wash cover was removed on the khondalite rocks used for building the temple. "These stones are available in the Eastern Ghats, but the interesting part of the structure got revealed when large earthen bricks were found in the mast region," he added.
These bricks measured 52 cm X 28 cm X 8 cm, with structural characteristics of the bricks used in Buddhist sites in and around Visakhapatnam coastal region. A researcher in Buddhist sites of north Andhra Pradesh, he said there were foundation walls of a Buddhist vihara in the close vicinity.
Chamber for monks to stay was found between the Mallikarjuna Swamy and Madhava Swamy temples that even today remain unexposed to the world due to several reasons like paucity of manpower and lack of will power among local administrators to permit the work.
Bricks estimated to be from 3rd Century B.C. are now lying in a heap alongside the temple, as the mast is being rebuilt with cement concrete.