Buddhist statue expert finds 'missing link'
By Hwang Jurie, The Korea Herald, Dec 13, 2010
Seoul, South Korea -- The annual fellowship award program of the National Museum of Korea has successfully wrapped up its project this year with research presentations by a Buddhist sculpture scholar from The State Hermitage Museum, Russia.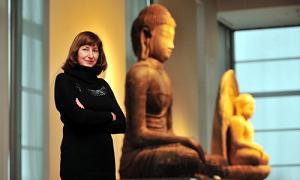 << Julia Elikhina, Oriental department curator with the State Hermitage Museum of Russia, stands in front of the Unified Silla statue of Buddha after her final presentation at the National Museum of Korea. (Kim Myung-sub / The Korea Herald)
Under the program, the National museum of Korea has offered overseas scholars opportunities to better understand Korean art and archeology, and also participate in various academic activities.
At the end of the program, invited scholars are required to submit their research papers as the final outcome of their five-month stay in the capacity of a National Museum of Korea's 2010 Senior Fellow.
Julia Elikhina, one of the three scholars invited by the museum so far, got her fellowship award for her insights into Oriental Buddhist art, along with her devoted study of Buddhist sculptures for over 20 years as the Oriental art curator with the Russian Hermitage Museum.
Her research titled "Cult of the main Bodhisattvas in the Korean Buddhism, iconographic and stylistic features of the Korean sculptures and paintings" signaled the culmination of her research in Korea.
It contains her discoveries and detailed analyses she made on her visits to early Buddhist sites in Korea, including South Jeolla Province temples and the ancient city of Gyeongju, well known for abundant Buddhist sculptures of the Silla Dynasty.
"I certainly filled in the empty space or missing link of my studies, and I feel that I have homework to take to Russia that I have to solve," she told The Korea Herald.
Though she spent more than 20 years as a curator specializing in Mongolian, Tibetian and Khotanese collections for the Oriental department of the Russian museum, she confessed that she had absolutely no exposure to Korean collections until the National Museum of Korea offered her the fellowship program.
"Since I was keen on sculptures in general, I delved into Tibet and Mongol Buddhism, naturally so because I was more exposed to that area. As I expanded my studies to Chinese sculptures, some of the unidentified objects at the Hermitage museum began to attract my attention. Through continuous endeavor, I discovered that some of them came from Korea."
Her recent discovery at the Hermitage Museum was the Avalokitesvara, a Buddhist sculpture from the 7th century Baekje kingdom. "Now I am absolutely sure that that is a Korean Buddhist sculpture," she smiled proudly.
Her knowledge of the Avalokitesvara fired up her desire to learn more about Korean art. Also, her experience in preparing for Buddhist exhibits at the museum left her more curious about Korean Buddhism, a missing part of her sweeping research into Asian Buddhist sculptures.
"I knew a lot about bodhisattva from different territories such as Tibet, China, Japan and Mongolia, and Russia. But I couldn't write anything about Korea because I had no information about that," she said.
The Russian school curriculum and the scholarly books provided to the museum include no mention of Korean Buddhism. "Even the Heritage museum did not have books on Korean Buddhist sculptures. But I explored them in Korea, and I now feel that I had enough materials to write a book at least for the museum."
Though she was given the rare opportunity as an "exchange student" to fill in the missing page of her planned book, she said that she felt both a burden and joy in carrying it around back in Russia.
Nonetheless, Elikhina boasts that her study here in Korea made her well armed to tell the similarities and differences among Buddhist sculptures across Asia with her last piece in Korea. "We have lots of objects from Korea at the museum, but we did not understand what we had."
Elikhina added that through her studies in Korean Buddhist sculpture, her students back in St. Petersburg would be happy about expanding their research discipline to Korean works.
For now, her biggest concern is that Russians do not seem to choose the study of Oriental culture.
"The young people want to study business and economy, shunning research of spiritual, cultural fields. As far as I know, I only have one person who is willing to continue my work after I retire."
If few students are trained and educated in this area, one day there will be a discontinuation of study in certain realms, perhaps forever, she said.
"This beautiful sculpture is from the 18th century Joseon Dynasty, but a colleague curator at the Hermitage asked me if it was made in Mongolia. All that I could say is that it was made in Korea. Now that I have collected so many pictures and information in Korea, I have so much to let our curators know about Korean art.
"I am currently working on a book called 'Bodhisattvas of East Asia,' and the puzzle is complete with the study done in Korea," she added.