Studying Buddhist philosophy in India
By Tashi Dema, Kuensel Online, May 11, 2007
Mysore, India -- Neighbouring India is the top destination for Bhutanese students pursuing further studies but it is in Mysore, South India, where you will find the highest concentration.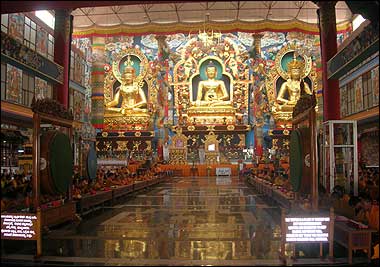 << Monks at a prayer session at the Namdroling monastery
In the 'Tibetanised' Bylakuppee village in Mysore, where even the auto drivers speak Tibetan, there are 750 Bhutanese studying Buddhist philosophy in Namdroling monastery along with monks from India and Nepal.
Penor Rinpoche from Tibet founded the Namdroling monastery in 1963.
According to Karma Tenzin, 28, from Trashiyangtse, who worked as a driver in Trongsa before joining Namdroling, Penor Rinpoche's acceptance of anyone who was keen to study Buddhist philosophy attracted Bhutanese.
"A cousin who studies here told me that no one is ever turned away so I came along with him," Karma Tenzin said.
A Bhutanese student at the monastery, who chose to be anonymous, said that his personal and societal responsibilities always hindered him from continuing his studies in Bhutan. "Having come from a economically deprived family, I had a lot of responsibilities laid on my shoulder. I had to go home often. I realised I would never be able to dedicate myself to the sangha, so I decided to come here," he said.
A monk, who gave up pursuing a Bachelors in Education (B.ed) course at the College of Education in Paro, Kinley Drukpa, said that with everything in his life becoming topsy-turvy, his only refuge was to come to Namdroling and become a monk.
The monks said that studying at Namdroling entailed only cost of travel. Tuition, housing, food and medical care were borne by the monastery.
"We get a break of three months during which we either go back to Bhutan or visit the holy places like Varanasi, Tsho Pema and Bodhgaya," said Sonam Zangpo who has been studying at the monastery for the past nine years.
Those in Lobdra (preliminary school) and shedra give their final examination at the end of December.
The monks also enjoy watching hindi movies, football and cricket matches. "It's a source of entertainment," a monk said. "We even go to Bangalore, which is almost six hours drive from Bylakuppee, to watch movies."
Singye, a graduate from the monastery, said that Bhutanese back home believed that any monk who completed the nine-year course from Namdroling is a Khenpo (Doctor of Philosophy). "That is not true," he said.
"After completing the masters course Penor Rinpoche observes the conduct of the scholar and then after three years as a Shedra teacher, if the candidate fulfills all the criteria like possessing ordained obligations, academic performance and good disciplinary conduct, the candidate is awarded the Khenpo title," he said.
There are also other Bhutanese students studying Buddhist philosophy in Sera and Drepung monasteries in Mysore.
Bylakuppee is a source of attraction to all Bhutanese students studying in various part of South India as it has the flavour of peace and serenity and religious sacredness.