Television irks Bhutan's authorities
By Karishma Vyas, AFP, June 21, 2007
For generations, the government limited foreign influence to preserve Bhutan's Buddhist, rural traditions. But with TV's advent, that's changing now
Timphu, Bhutan -- Television reached the tiny Himalayan kingdom of Bhutan only eight years ago but the country is hooked. Hollywood movies and Indian soaps are the biggest draw, but amid a mass of programmes there is growing unease about the cost to traditional culture.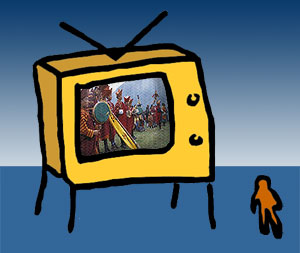 Residents of the tiny nation, wedged high in the mountains between India and China, were given their first taste of television in 1999 following widespread discontent over missing the football World Cup the previous year.
Now 40 channels are on offer, beaming images of an outside world that Bhutan's rulers spent centuries trying to keep out. Family life is changing. "When I had no TV, we used to get together and sometimes the kids would sing and chat. The kids also used to go out and then I could concentrate on prayers," said Ngyenam, a middle-aged woman who lives in a farming village outside the capital Thimphu.
The goggle box has also transformed the tiny village of Yuwakha. Villagers no longer talk and drink well into the night; as dusk falls the streets are deserted as people settle down for dramatic soap operas from neighbouring India. "After we got the TV, I hardly get time," said Ngyenam. "Even though I spin my prayer wheel, my mind is always on the TV. I can go anywhere... watching TV is like travelling to all the places I like."
Ngyenam's husband, a retired civil servant, believes their children's concentration is also beginning to suffer. "They get frustrated when we say 'don't watch'. So it is a concern for us because they don't study properly," Sangay Tshering said. A changing lifestyle in Yuwakha is one of many examples of the impact of television in Bhutan, something that authorities in the capital are starting to fret over.
For generations, the government limited foreign influence to preserve Bhutan's Buddhist, rural traditions. Slowly, national leaders have tried to adapt to the challenges of the outside world - allowing change in small doses but trying to maintain the peaceful detachment that makes the remote country so unusual. Former king Jigme Singye Wangchuck stepped down in favour of his young, Oxford-educated son last year to help the monarchy adapt. Next year the first ever democratic elections are scheduled, the culmination of a plan to transform Bhutan into a constitutional monarchy.
But what many fear is also arriving is the rabid consumerism of much of the outside world. "Television and advertisements create desires," said Phuntsho Rapten, a researcher with the Centre for Bhutan Studies. "And it is also possible that these kind of desires may not be satisfied given the economic situation of the people," he said.
Landlocked Bhutan is primarily a farming nation where per capita income hovers around 1,300 dollars a year - a strong figure compared to around 240 dollars in nearby Nepal, but still too low to sustain a lust for flat-screen televisions, cars or other Western luxuries. So the government's Bhutan Broadcasting Service network is fighting back, heavily promoting domestic programmes that attempt to give a new, entertaining take on national traditions. "The most important thing is to have local content," said Mingbo Dukpa, managing director of BBS.
"There's so much junk and, like in America, if you throw so much junk and all people are only used to the junk world, then you tend to lose a little bit of the reality."